Bali is a land of private villas and luxury resorts so stunning you may never want to leave your accommodation. But trust us when we say you're going to want to get out and about and explore this magical place. Don't know where to start? Don't worry. We've reached out to a collection of travel bloggers and asked them to tell us stories of their favourite fun-filled days out in Bali!
They tell us where they went, who with, how they got there, what they saw and why they loved it. These first-person accounts include cycling through Balinese villages, following sacred waters, taking that perfect Instagram shot, discovering hidden waterfalls, visiting rice terraces, lounging in beach clubs, and sipping on Bali's famous Luwak Coffee. We've got stories from solo travellers, families with teens and young children, couples, and groups of friends, both new and old.
So wherever you're staying and whatever your travelling crew looks like, there'll be a story here that appeals to you. Read on for some inspiration for your next day out in Bali.
Picture perfect East Bali
One of the best days out in Bali has to be a trip to the East! There's so much to do and see, and (in my opinion) it's one of the island's most beautiful areas.
I visited Bali with a good friend and my partner, and the three of us decided to go exploring. We booked a local guide, and I recommend you do the same rather than relying on booking a Grab (Bali's version of Uber) as they don't have many drivers in East Bali.
We were picked up from our eco hotel and headed first to La Montagne Coffee for brunch and a coffee with an incredible view. Picture rolling hills, tiered rice paddies and stunning volcanoes that jut up out of the earth, creating an impressive landscape.
After this, we went to Heaven's Gate, a truly iconic spot in Bali. You'll recognise it from the many photos on the internet, where the temple gates perfectly frame the impressive Mount Agung. You'll have to queue for the chance to take that incredible picture, and the length of the queue changes depending on the time of day and season you go. But trust me when I say it's worth it! The view is stunning, and the local guides taking the pictures have plenty of experience helping visitors get the perfect shot.
Nearby is Tirta Gangga, a holy water temple where stepping stones lead you across beautiful pools filled with hundreds of giant koi fish. You can stop to feed the fish, and there's also a section where you can swim with them. It's good fun, so remember your bathing suit!
We finished off the day by heading up to Lahangan Sweet viewpoint. This stunning spot offers spectacular views across the valley to Mount Agung and the coast. The place is beautiful at any time, but the best lighting is at sunset when a rosy glow bathes the landscape, lasting until about 6:30 pm. Take your time to enjoy all the different viewpoints along this section of the mountain. It's the most serene area of Bali and shouldn't be missed.
Recommended by Adriana Neptuna from Wanderlicious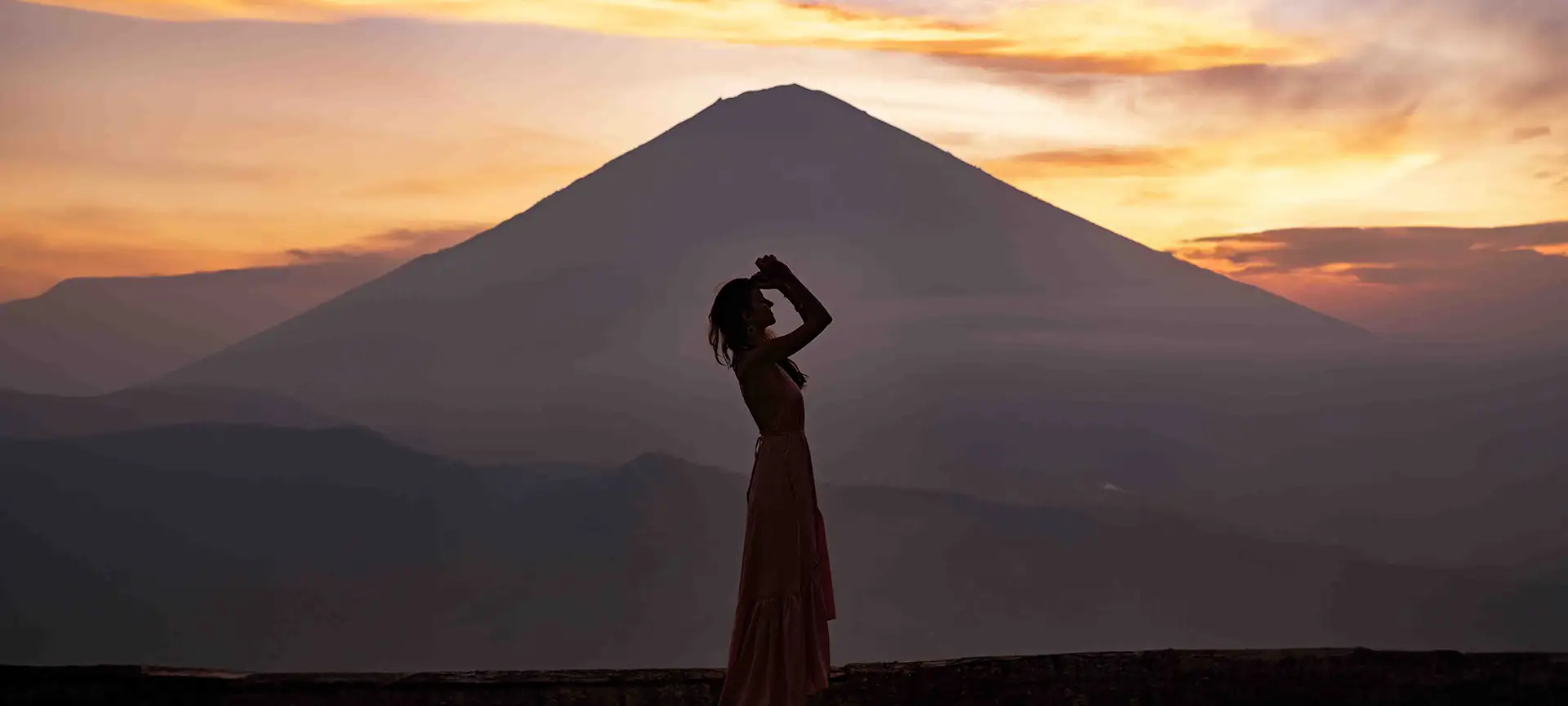 Touring on two wheels
I had an incredible time on a full-day bike tour in Bali with my mom for her 50th birthday. A friend recommended this tour, and it didn't disappoint as cycling is one of the best ways of getting around Bali!
We were picked up in a van from our accommodation in Seminyak and started on our journey. Our first stop was at the Tegalalang village, where we got to witness a local farmer harvesting rice. Seeing the process and learning about how it's done in Bali was amazing. Next, we headed to a coffee plantation, where we sampled some local blends! Then it was on to a breakfast spot alongside Mount Batur to enjoy delicious banana pancakes with an incredible view.
After breakfast, the adventure began! The bike ride itself was so much fun – it started with some uphill climbs, but soon we were gliding downhill, admiring the local scenery and pausing to take pictures.
We stopped to walk through the traditional Balinese village of Penglipuran, where we explored the area and learned about the local culture. Then, to finish our full-day tour, we took a walk through the jungle and came across a hidden waterfall. We even got to see a monkey amidst the trees as we drank the fresh coconuts our guide provided!
Overall, the experience was unforgettable – our guide was friendly, spoke great English and took family photos for us along the way. It was also wonderful to see a monkey in the jungle at the end of our ride!
If you're looking for a unique way to explore Bali, I highly recommend this full-day bike tour – just make sure to pack plenty of water and insect repellent, and dress for hot weather!
Recommended by Oliva McDonald from Defining Decade
Discovering Bali's secrets
Bali waterfalls are a must see and a part of what makes the island so special. One of them especially stands out, and that's Sambangan Secret Garden. What makes it so wonderful? Well, it's not just one waterfall, but seven and an adventure playground too!
We discovered this magical spot thanks to our driver, who was taking us back to the south of the island after a stay in Lovina, North Bali. He told us we should stop along the way at this hidden gem tucked into the hills of central Bali.
Well, obviously, we took his advice! He drove me and my friends 45 minutes from Lovina to the closest town Singaraja and then into the forest. Once there, we walked for around 30 minutes from the car to the falls. It's worth the walk since you pass through tranquil forest, passing clove trees and enjoying beautiful views of rice terraces, rolling hills and fields of marigolds along the way.
We hired a local guide – which is compulsory for your safety – chose the short trek, which cost 125,000 IDR and headed off to explore the falls. We discovered several waterfalls in the middle of the lush greenery, all of different sizes and intensities, including the famous Aling Aling Waterfall. It was mesmerizing!
Those of us who wished to unwind could just enjoy the walk and the beautiful scenery, but those who wanted more thrills could swim in the various pools and even jump into them from different heights – 5, 10 and 15 meters high! I only tried the smallest jump, but there was also a natural water slide created by the smooth rocks of the falls. Our guide gave us a life jacket and showed us how to slip down the 12m slide. So funny! Then, we relaxed under the beautiful Kroya Waterfall.
It was a fantastic day out to a place not many people visit in Bali, and we returned to our accommodation in Seminyak with our heads full of memories.
Recommended by Soline Le Page from On the Road Diary
An action packed day
My husband, in-laws, and I set off to experience a full day of culture and adventure while visiting Ubud. And we were not disappointed! From temples to terraces, coffee to volcanoes, this Ubud day trip had it all!
One of the best ways to spend less money traveling is to hire a local driver, which is exactly what we did. Our hotel helped us arrange everything, and it meant we could not only split the cost within our group but also support the local community.
First up was Gunung Kawi, known as Bali's "Valley of the Kings". Hidden in a deep ravine, this 11th-century temple has ten impressive shrines honoring ancient kings and queens. Yes, you must climb down 300 steps in the scorching heat and humidity, but it is worth every drop of sweat!
We then toured the Dewi Agriculture Coffee Plantation, deep in the Balinese jungle. Surrounded by towering plants and cocoa beans, we sampled several coffee blends, including the famous Kopi Luwak. This specialty coffee is made from beans eaten, digested, and pooped out by an Asian Palm Civet – a nocturnal, cat-like creature native to Indonesia. Though it may sound bizarre, these partially fermented coffee beans, once processed, make a delicious cup of coffee!
Next, we stopped for lunch at a local restaurant overlooking the active volcano on Mount Batur, surrounded by the largest crater lake on the island of Bali. It is a fantastic spot for pictures and for shopping from locals selling everything from fruits to fabrics.
Our last stop was the Ceking Rice Terraces, and these were honestly the most beautiful rice terraces we saw in Bali. Watching an authentic part of Balinese culture unfold in front of you as local farmers tend to their fields is truly fascinating. We enjoyed a cold drink and sat mesmerized by peace and beauty.
Days like this are what travel is all about!
Recommended by Robyn Dirk from Two Empty Passports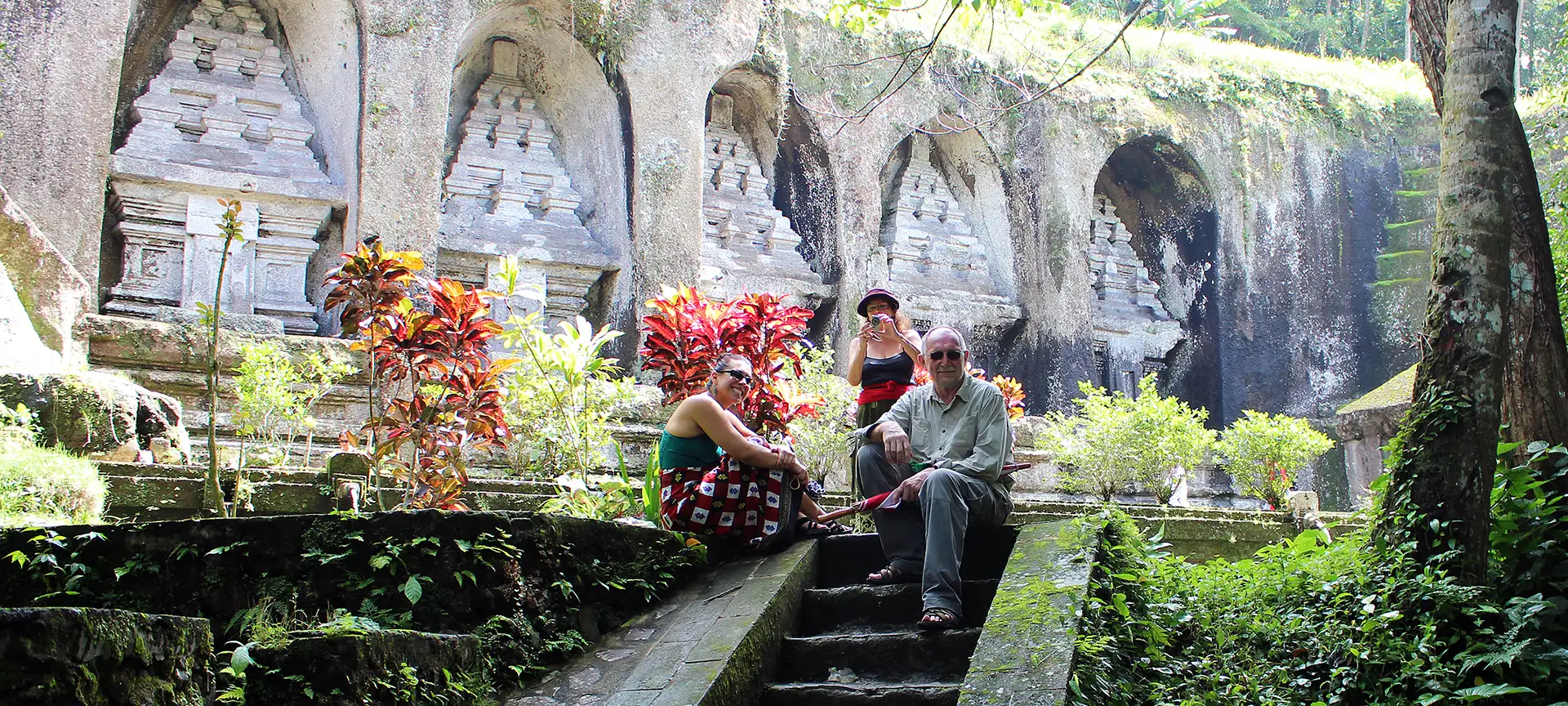 Fantastic first impressions
One of my favorite days in Bali would have to be my first tour of the Ubud area as a solo traveler! I had just arrived in Bali for the first time, and I hired a car and driver for the day, planning to spend the whole morning and afternoon visiting different sights on the island.
I had never traveled to Asia before, so I had no idea what to expect. But having seen Bali's busy and chaotic sea of traffic, I knew this wasn't the time to learn how to ride a motorbike. I decided hiring a private driver was the best bet. My driver was friendly, surprisingly affordable, and happy to share his knowledge of the island with me!
We started with a visit to the Tegalalang Rice Terrace near Ubud, with its stunning green colors and layered rice paddies. The water here flows in steps, irrigating the rice for the farmers while creating a beautiful landscape. It's an incredible place and one of Bali's most iconic sights. I had never seen anything like it before, and I loved it!
Next, we visited the Ubud Art Market and checked out the authentic Balinese souvenirs for sale. There were all kinds of unusual trinkets, including rattan bags, wooden carvings, Hindu masks, and paintings of rural life, with scenes similar to what we had just witnessed at Tegalalang. Best of all, everything was handmade!
Lastly, we visited some Balinese temples near Ubud, including Saraswati and the Goa Gajah cave temple. I especially enjoyed Goa Gajah, a 9th-century temple with a spooky doorway shaped like the mouth of a monster. It feels like you're walking into the belly of some ancient beast!
The culture, architecture, and sights I saw on this trip were a wonderful surprise for me, and I immediately knew I liked Bali. The day flew by so fast! If you're a new visitor to the island, these are some of the best sights you can see on your first day out exploring. The mix of culture and nature made it the perfect introduction to Bali!
Recommended by David Leiter from The World Travel Guy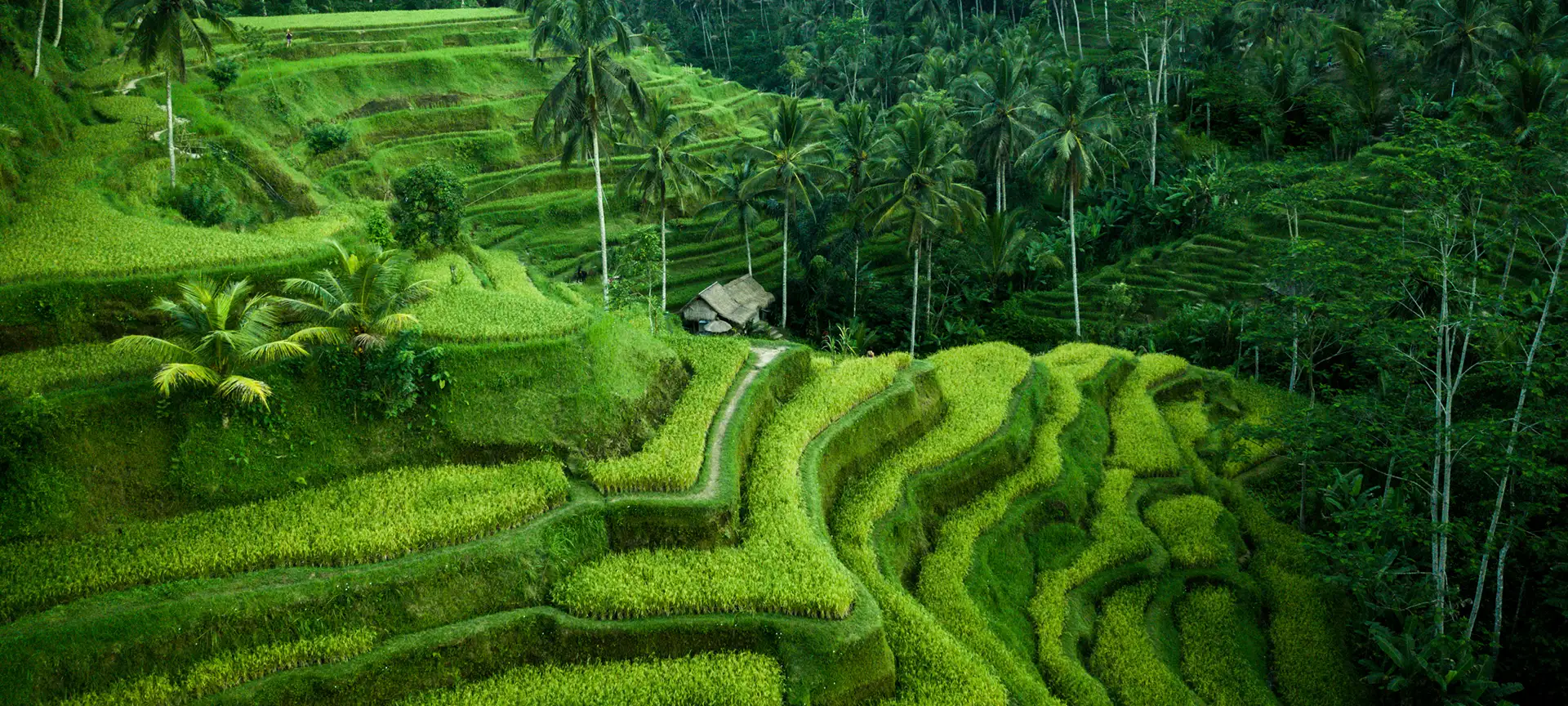 Sundays are for sunbathing
Let me tell you about the most epic day of my Bali getaway! It was just my partner and I, and we decided to go to Sunday's Beach Club in Uluwatu. We were craving some sun, sand, and adventure, so this place seemed like the perfect fit.
We did some research and planned everything on our own. We booked our sunbed through the website and ordered a Gojek driver to pick us up at our beachfront accommodation. As we embarked on our adventure, anticipation filled the air, and we couldn't wait to see what the day had in store for us.
When we arrived at the Beach Club, we were immediately greeted by the breathtaking beauty of the place. The clear blue waters, golden sand, and lively atmosphere set the stage for an incredible day. We found a cosy spot under a beach umbrella and settled in, ready to soak up the tropical vibes.
As soon as the tide allows it, Sunday's Beach Club provides visitors with free SUPs, kayaks and snorkelling equipment. Snorkelling at the reefs and paddling through the shallow water was really fun. The only downside was that they only had a limited amount of equipment, so you had only 20 minutes before going back to shore and applying again for the waiting list.
After all that excitement, we were ready to unwind and relax. We lounged at the beach, sipping on refreshing cocktails and enjoying the panoramic views of the ocean. The Beach Club's attentive staff ensured our every need was met, delivering delicious food and drinks right to our sunbed.
As the day drew to a close, we witnessed a magical sunset that painted the sky in orange, pink, and gold hues. It was a moment of pure serenity, and we felt so grateful to be experiencing it together.
Recommended by Victoria from Guide Your Travel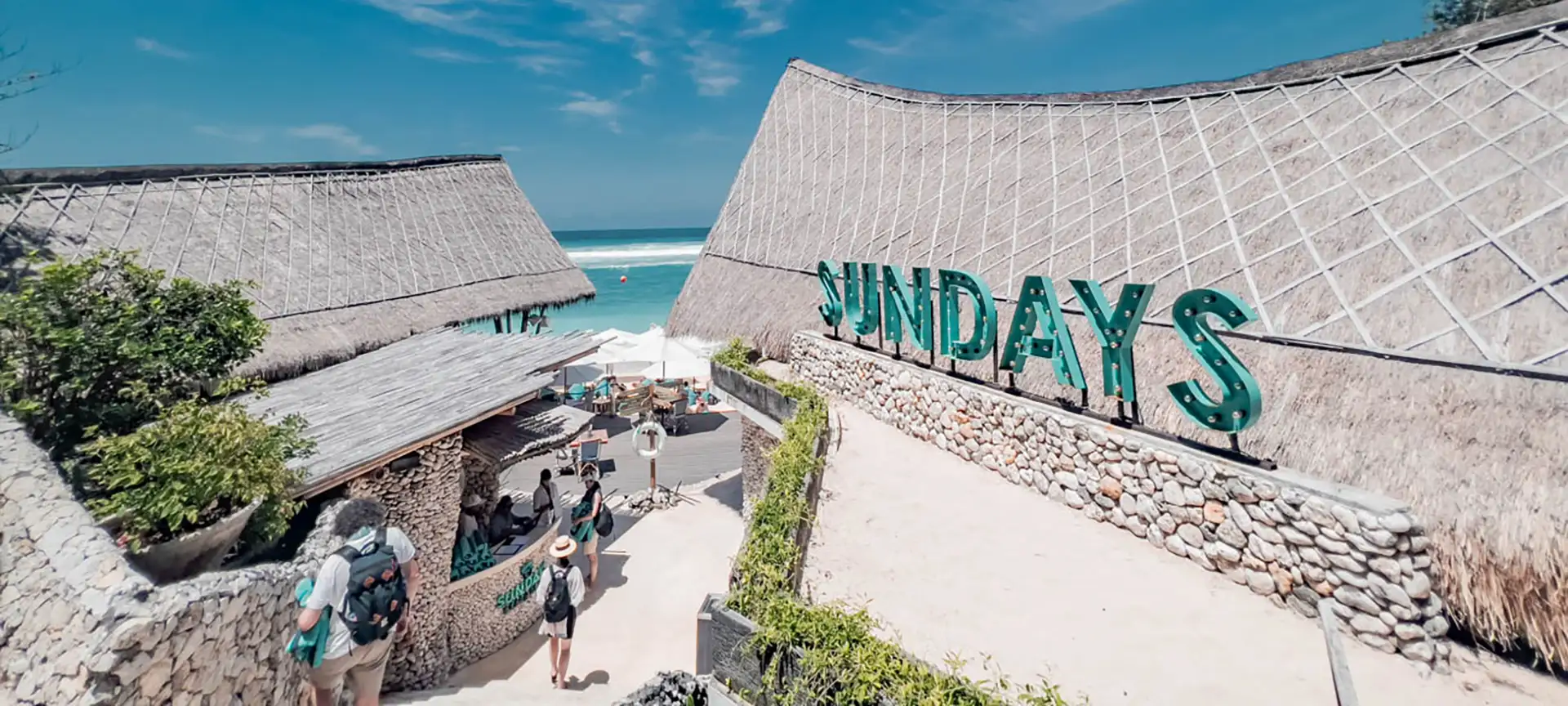 Freewheeling family fun
Taking a bike ride through the Balinese villages with five kids aged between eight months and eight years? Some people thought we were crazy, but we had an amazing day out!
Ubud Cycling Bike organised everything, including picking us up from Padma Ubud Resort. It was a 40-minute drive to the village north of Ubud, and we met Komang, our legendary tour guide.
Our first stop was at a local school that the Ubud Cycling team works with and supports. They were amazing and ensured our visit didn't interfere with the kid's school day. Next was a visit to an organic coffee plantation to taste the delicious local brew. Then, after a short drive, we arrived at the start of the bike ride.
One of the best parts of this bike ride is that the bus followed behind and provided a selection of bikes to suit all the kids, including some with toddler seats and tandem bikes. This allowed us to ride or rest as the kids needed.
Riding through the rice fields and the local villages was so much fun. The Balinese locals gave us the most gorgeous smiles as we rode past, and the younger kids would often try to run along with us. Our faces hurt from smiling so much!
After burning energy riding the bikes, it was time for lunch. We stopped at a local warung in a stunning setting overlooking the river. The food was delicious, just what we needed, and the kids loved it too. As we climbed back onto the bus, tired but happy, the heavens opened, and it was a wet drive back to the Padma Ubud Resort.
Our family often talks about what an amazing day we had on that bike tour, and it's an activity we recommend to all families travelling in Bali with kids. When you cycle through the villages, you experience a unique side to Bali that you don't see while travelling in a van.
Recommended by Kate Comer from Rolling Along With Kids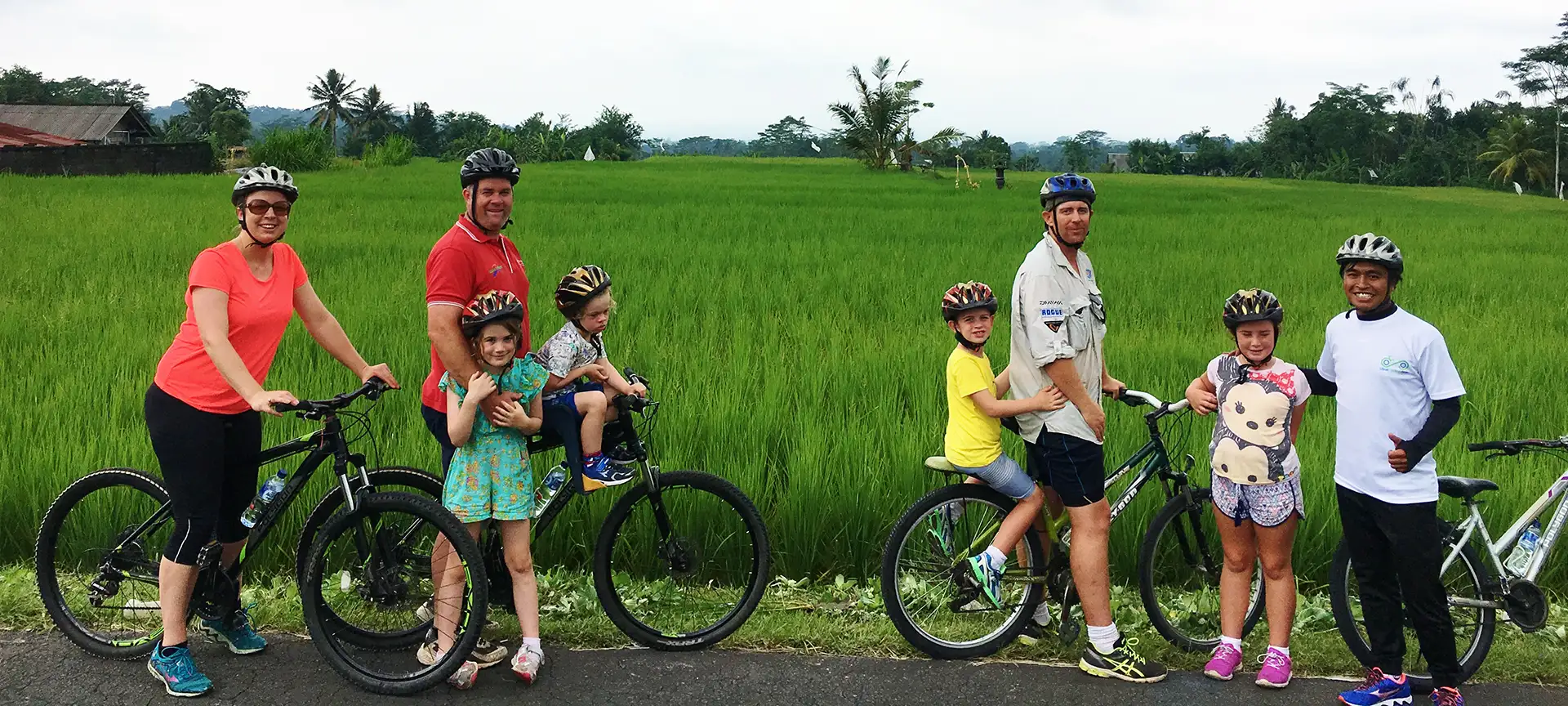 The way of the water – From temple to terrace
Tourism may dominate much of Bali's economy these days, but the main traditional industry here – agriculture – is still very important. And interestingly, it's intertwined with the spirituality of the island.
One of my goals as a traveller is to visit every World Heritage Site, and there's one in Bali covering locations demonstrating this blend of work and religion. I met up with a couple of young guys who've been working to protect this culture, and they promised me a fun day trip into the mountains to see some of these sites.
First, we headed to Pura Luhur Batukaru, a water temple about 50 kilometres north of Denpasar, in the shadow of Mount Batukaru. Small shrines, stone statues, and wooden pagodas – many of them covered in moss – are dotted throughout the complex. And to the side is the most important part: the reservoir where the water is blessed before flowing down to the farms.
To see where it ends up, we jumped in the car to visit the Jatiluwih Rice Terraces, one of the island's most beautiful collections of rice-growing fields. We followed the paths through the rolling green terraces, stepping between the paddies and trying not to slip into the water. Every so often, we saw simple stone shrines on the corner of the fields. These are part of the religious philosophy that also determines how the water is shared fairly amongst the farmers.
Heading back to Denpasar, there was one more stop – the Pura Tirta Empul temple, close to Ubud. Local worshippers enter a large pool of water to walk past a row of fountains, each representing a god. As a tourist, you can also join the procession as long as you're respectful. I chose not to, but there was still plenty to see within the beautiful temple complex surrounded by jungle.
I love that this day out took us to locations that are not just stunning but also have such important cultural heritage. Because ultimately, that's what makes Bali so special.
Recommended by Michael Turtle from Time Travel Turtle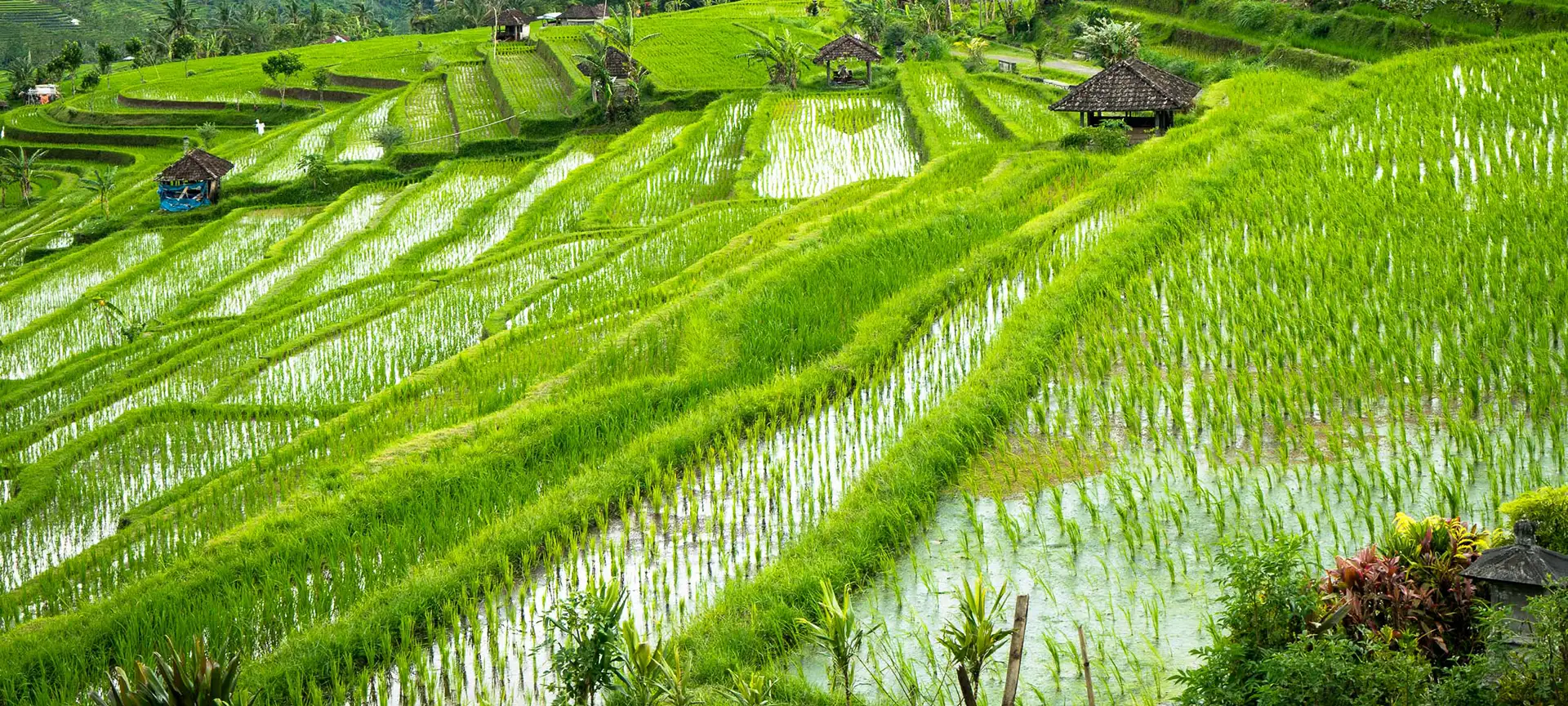 An unexpected experience
The best traveling days are when completely unplanned and spontaneous adventures turn into the experience of a lifetime. Like when you happen to witness a mass cremation festival, one that only happens once every five years and only in Bali.
I experienced this incredible event with a group of friends I had met at one of the most welcoming hostel experiences I've ever had. We had gotten up early and headed to Diamond Beach on Nusa Penida to catch the massive waves crashing onto the pristine white sand below towering cliffs. As we were returning to our hostel, we saw a massive statue in the distance and asked a local about it. He told us it was part of the Ngaben celebration and only happens once every five years for this region.
The Ngaben celebration is a Hindu funeral tradition in Bali, Indonesia. It is a purification process for the departed soul. It aids in the transition to being reborn or finding release from the cycle of life and death, and a proper cremation ritual increases the chances of a smooth transition.
When we arrived, we were blown away by the scale of the event. Hundreds of locals attended, dressed in traditional clothes, carrying beautifully crafted bamboo animal structures, and chanting prayers as they paraded through the streets. Then, one by one, the exhumed bodies of deceased loved ones were loaded onto the structures for a final goodbye.
Once night fell, the pyre began. This solemn moment was poignantly marked with a combination of sadness and celebration. The smell of incense and the crackling of burning wood filled the air as we watched the bursting flames fade to embers. Then, the ashes were searched for any remaining pieces of bone. These were collected by the families and would be sent out to sea in the coming days to be returned to the elements.
Watching this ceremony was an experience like no other and a reminder to take every opportunity that comes our way. My friends and I were all so lucky to have been there for this beautiful tradition and to share it with each other.
Recommended by Catherine Xu from Nomadicated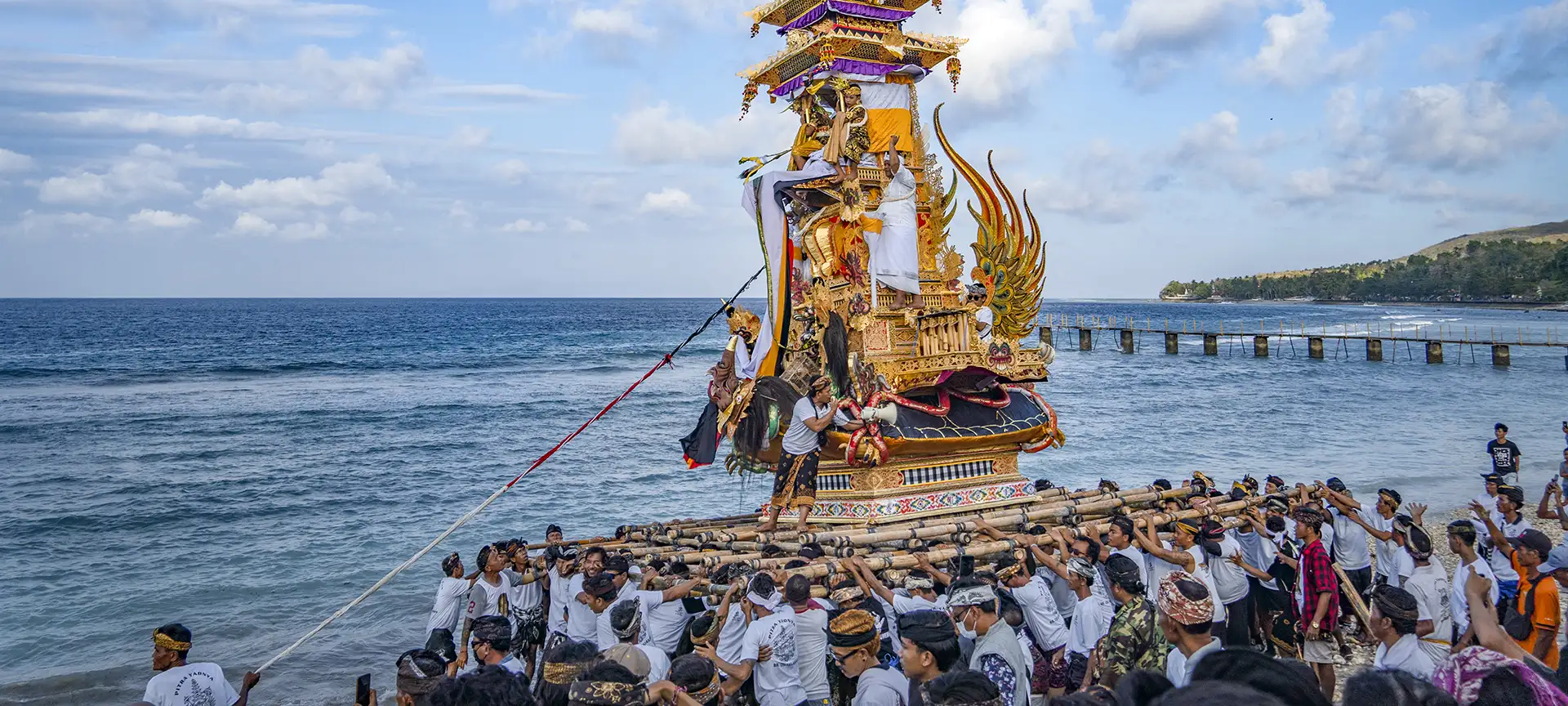 Riding the rapids
After 20 visits to Bali, we can't stay away, but we were hoping to find something new and different to do on this trip. That's why I took my blended family to North Bali for a waterfall trek with a surprise ending.
In the mountains near Lemukih, in North Bali, is the largest waterfall in Bali, cascading through the rain forest. And above the falls is an incredible natural water slide of about 150 feet / 45 meters long!
Our day started with our tour guide collecting us from our hotel in Ubud. On the 1.5-hour drive north, we passed views of the volcano and stopped to take photos of monkeys lining the roads.
Taking three teenagers on a 5-hour hike is perhaps not what everyone would call fun. Still, as we crossed rivers and discovered seven different waterfalls, everyone started getting into the epic adventure, especially when there came an opportunity for some cliff-jumping into a deliciously cold waterfall pool.
At the end of our hike, we stopped at Bali's Secret Natural Water Slide. Locals provide you with tires to hold onto before jumping into a downhill river that has you riding rapids at break-neck speeds.
The water was cold and refreshing, and the ride was exhilarating. It was a fair march back to the top, so most of us only managed two rides. Then, exhausted, we climbed the stairs to a nearby local restaurant for some well-earned Nasi Goreng and a coconut.
Recommended by Erin Holmes from Explore With Erin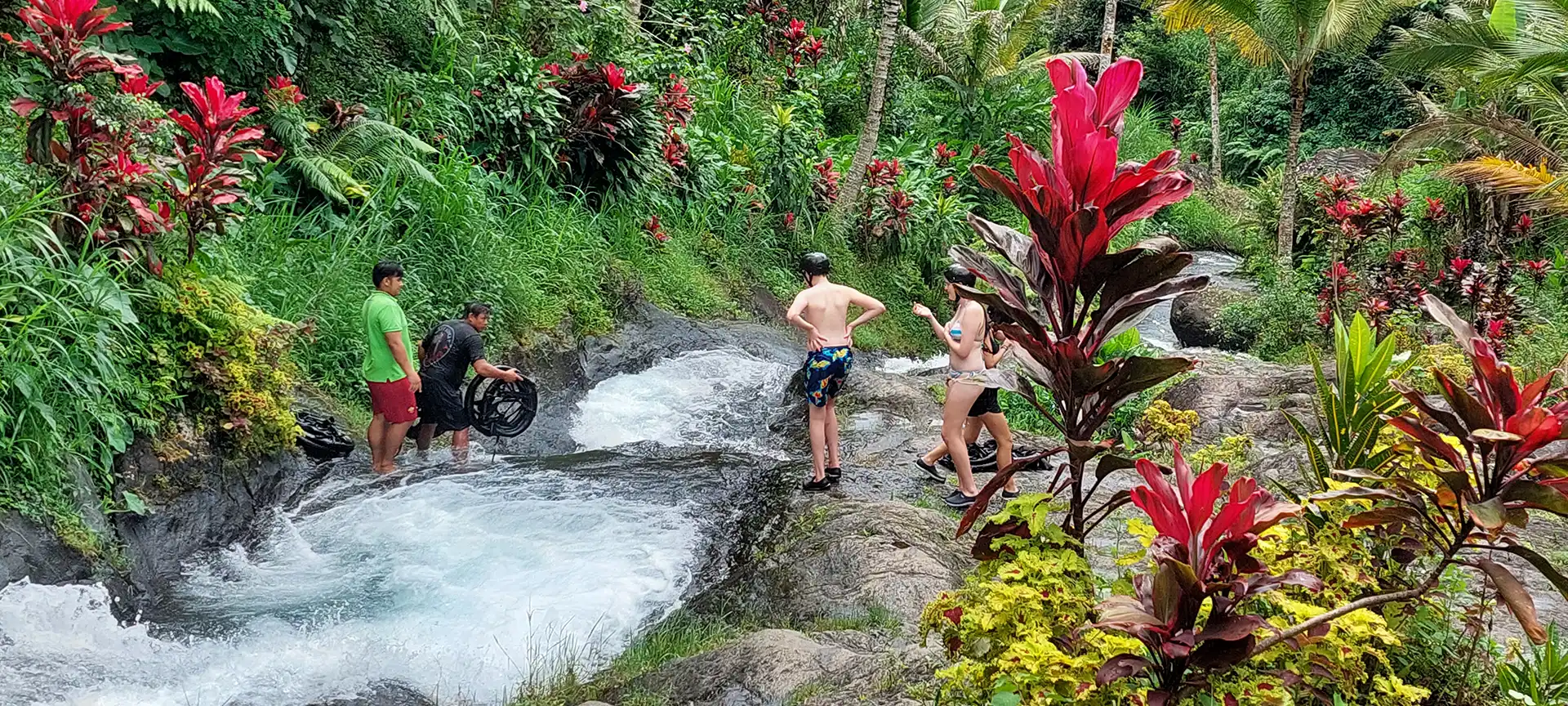 So what do you think?
Have our stories of action packed days out in Bali got you inspired? Do you fancy exploring waterfall-filled jungles, visiting water temples and coffee plantations, and wandering through art markets before stopping for lunch at a local warung with stunning views?
Well, don't put it off any longer, choose your Bali dream accommodation now, then start planning your first fun-filled day out!
Bali holds a special place in Anita's heart. She loves everything about it, from the beautiful beaches and incredible hiking to the relaxed atmosphere and friendly people. She spent her time in Bali learning to scuba dive, taking yoga classes on the cliffs of Uluwatu and exploring hidden waterfalls by scooter in the forests around Ubud.