Find your perfect Dream Escape
Dreams can come true, and if your dream is to escape to a tropical paradise, we're here to help you. Bali has been welcoming tourists since the early 20th century but tourism only took off in the 1960s, when Sanur became the island's first tourist resort.
Today, Bali welcomes visitors from around the globe, with activities to appeal to everyone and every lifestyle.
From grand resorts along the golden sandy beaches of Nusa Dua to the five-star luxury spa retreats of Ubud there's plenty of choice of fabulous accommodation in Bali. So let us help you find your dream escape…
Escape to Bali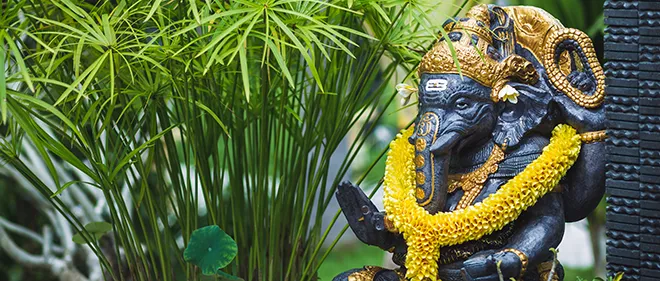 Island of the Gods
While the main religion in Indonesia is Islam, In Bali 87% of the population identify as Hindu. However, Balinese Hinduism differs greatly from Hinduism in India.
When Hinduism was introduced to the archipelago by Indian travellers, it was blended into the local religion and seasoned with a pinch of Buddhism. You'll find temples and shrines everywhere and religious ceremonies throughout the year.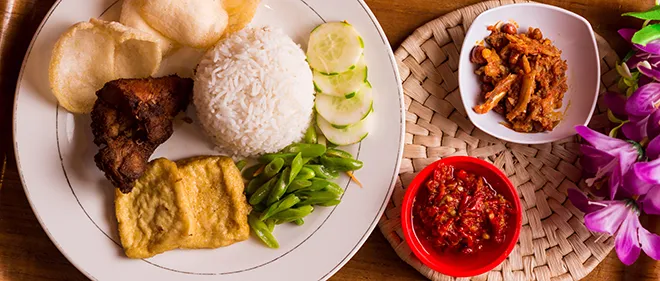 Rice Rice Baby
Rice is pretty much the mainstay of Balinese food. The locals will have rice in every meal, whether as a side dish or forming the main event. (Even visiting the Golden Arches you can have rice with your burger).
Nasi Goreng (literally 'fried rice') is the most famous rice meal and possibly Indonesia's national dish. However equally as popular are Nasi Campur, a dish of rice served with accompanying dishes, and its street food cousin, Nasi Jengo.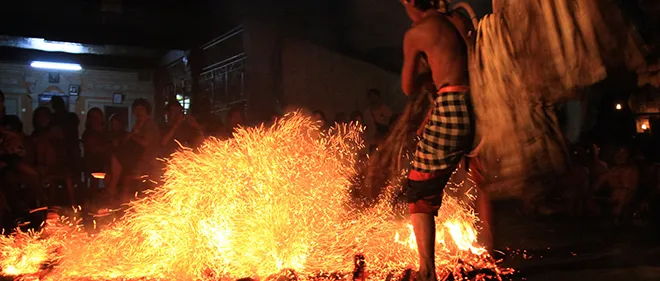 Dance into the fire
Traditionally, Kecak was a trance ritual, accompanied by chanting. In the 1930s, a German painter and a Balinese dancer worked together to combine the chant with dance to tell the story of the Rumayana and the Kecak dance was born.
The music for the performance is provided by the rhymic chanting of the chorus of up to 150 men repeating "chak-chak-chak". In a spectacular end to the show, performers quite literally dance into the fire.
While Ubud is best known as Bali's yoga and spiritual capital, it is also home to a flourishing artisanal coffee
From sipping arak to yogic stretching, Bali offers so many things to offer visitors to enjoy. Whether you are looking to spend to holiday lounging at the pool of a five-star resort, getting pampered at a luxury spa or exploring the Balinese jungles and rice fields, you'll find your perfect dream escape on the island.
So what are you waiting for? Book your flight to Bali now.