It's no secret that we love Bali and believe it holds a multitude of wonders for all ages, tastes, budgets, and holiday styles. But you don't just have to take our word for it! We've reached out to a selection of travel bloggers and asked them for stories of their favourite Bali holidays. We asked them to tell us where they stayed, what they saw, the activities they loved most, and what they would recommend to anyone considering a holiday in Bali.
Read on for first-hand accounts of scuba diving with manta rays, self-discovery on a spiritual retreat, hiking an active volcano, and sharing breakfast with monkeys. Some of our contributors focussed on relaxation by staying in fully staffed villas in luxurious resorts, lounging by infinity pools amidst the lush jungles of Ubud, and enjoying waterfront massages on some of Bali's best beaches. Others immersed themselves in the local culture, visiting temples and observing sacred ceremonies. And one loved the island so much that they never left!
So if you're planning to visit this island paradise, but don't know where to base yourself, what style of accommodation will suit you, or what experiences to put on your Bali bucket list, you're in the right place. These stories will give you some great ideas for a holiday in Bali to make you – and your friends back home – say WOW!
Living up to the hype
Bali, oh Bali! I finally capitulated to see what the hype was all about and had the pleasure of spending a month solo backpacking through this exquisite island. And I have to concede the hype is justified!
One of the things that struck me immediately when I arrived was the Balinese culture, with its blend of Hindu and Buddhist beliefs. Colorful offerings are laid out in front of doorways and windshields every morning as a peaceful prayer is wished. And everywhere I went, I saw breathtaking temples adorned with intricate carvings and sculptures.
The views of Mount Agung through the Gates of Heaven at Lempuyang or the tranquility of the Beakih "Great Mother" Temple never ceased to amaze me. Temple ceremonies seemed to happen daily, and I could hear the sound of tinkling xylophones echoing throughout my trip.
One of the highlights of my trip was visiting the volcanoes towering over this Indonesian island. Hiking to the summit to see the raw, natural power of the Earth on full display leaves one in complete amazement. The sheer size and beauty of the spectacle was breathtaking.
Another unforgettable experience was discovering the endless number of waterfalls, from the mighty Tegenungan waterfall to secluded ones like the Tukad Cepung waterfall. Tibumana's crystal-clear water was particularly enchanting as it cascaded into pools below like something out of a fairytale.
Finally, I am grateful for the amazing friendships I formed. The local people in Bali are hospitable and welcoming. As I learned their customs and traditions, I found it refreshing to see the respect and reverence they hold for their land and surroundings. And I loved meeting my fellow backpackers, who I know I will see on the path again someday.
Recommended by Catherine from Nomadicated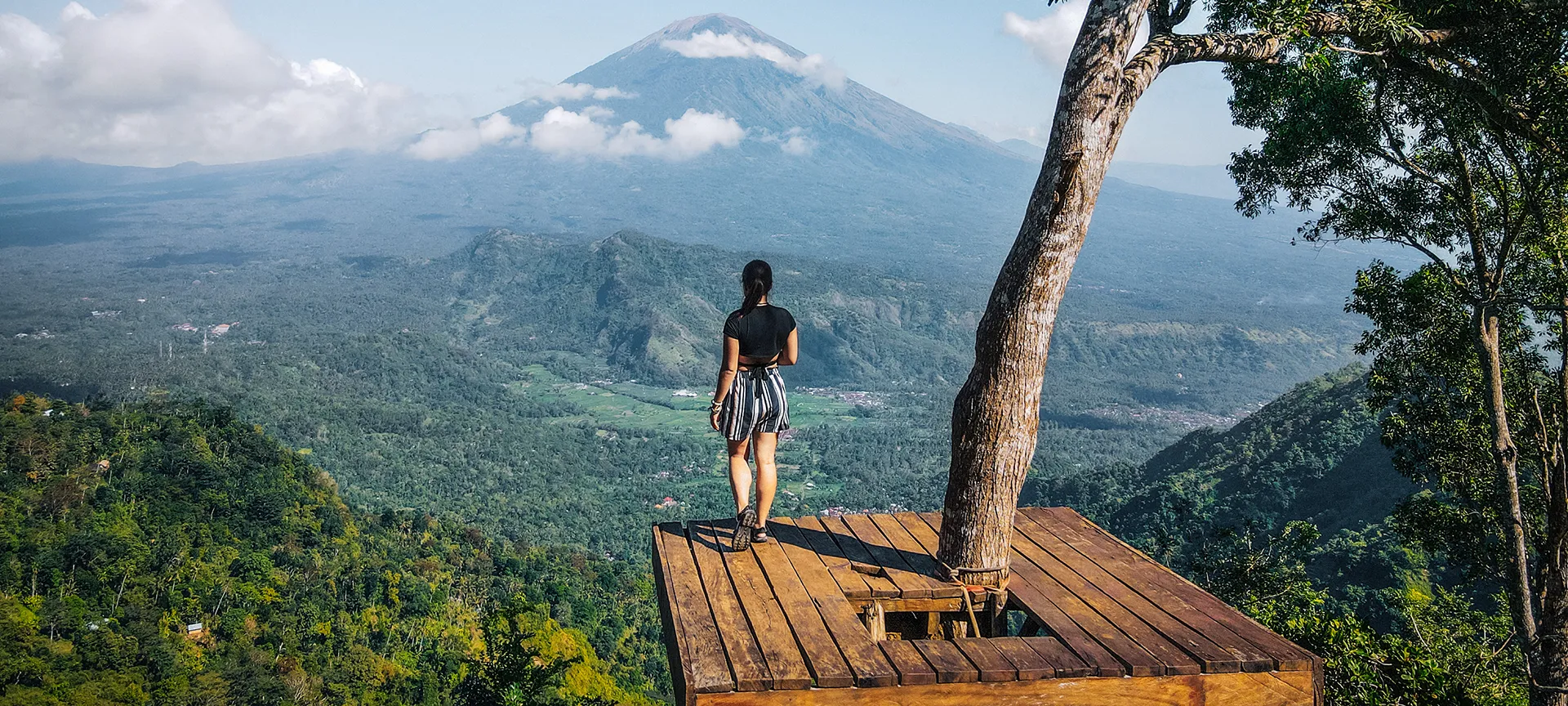 Life's a beach in Bali
As someone who loves to travel, I have been fortunate enough to explore some of the most beautiful beaches in the world. But Bali's beaches hold a special place in my heart. From the clear turquoise waters to the soft white sand, they are truly breathtaking.
One of my favourite beaches in Bali is Padang Padang. This small, secluded beach is nestled between two cliffs and can only be accessed by a narrow staircase. But the effort is well worth it, as the beach is simply stunning. The water is crystal clear and perfect for swimming, while the surrounding cliffs provide a picturesque backdrop for sunbathing.
Another must-visit beach in Bali is Nusa Dua Beach. This beach is known for its calm waters, which make it ideal for swimming and snorkelling. The soft white sand is perfect for lounging, while the nearby resorts offer a range of amenities, from beachside bars to water sports activities.
For those who are looking for something a little more off the beaten path, there is Balangan Beach. This secluded beach is located at the base of a cliff and is surrounded by lush vegetation. The waves here can be rough, making it a popular spot for surfers, but the scenery is breathtaking.
And finally, no trip to Bali would be complete without a visit to Double Six Beach. This popular beach is known for its vibrant atmosphere, with surfers and sunbathers soaking up the sun by day and bars and clubs coming to life at night. The beach is perfect for people-watching, while the nearby markets and shops offer a range of souvenirs and trinkets to take home. You can even make some new friends on the beach if you take a surf lesson.
Recommended by Victoria from Guide your Travel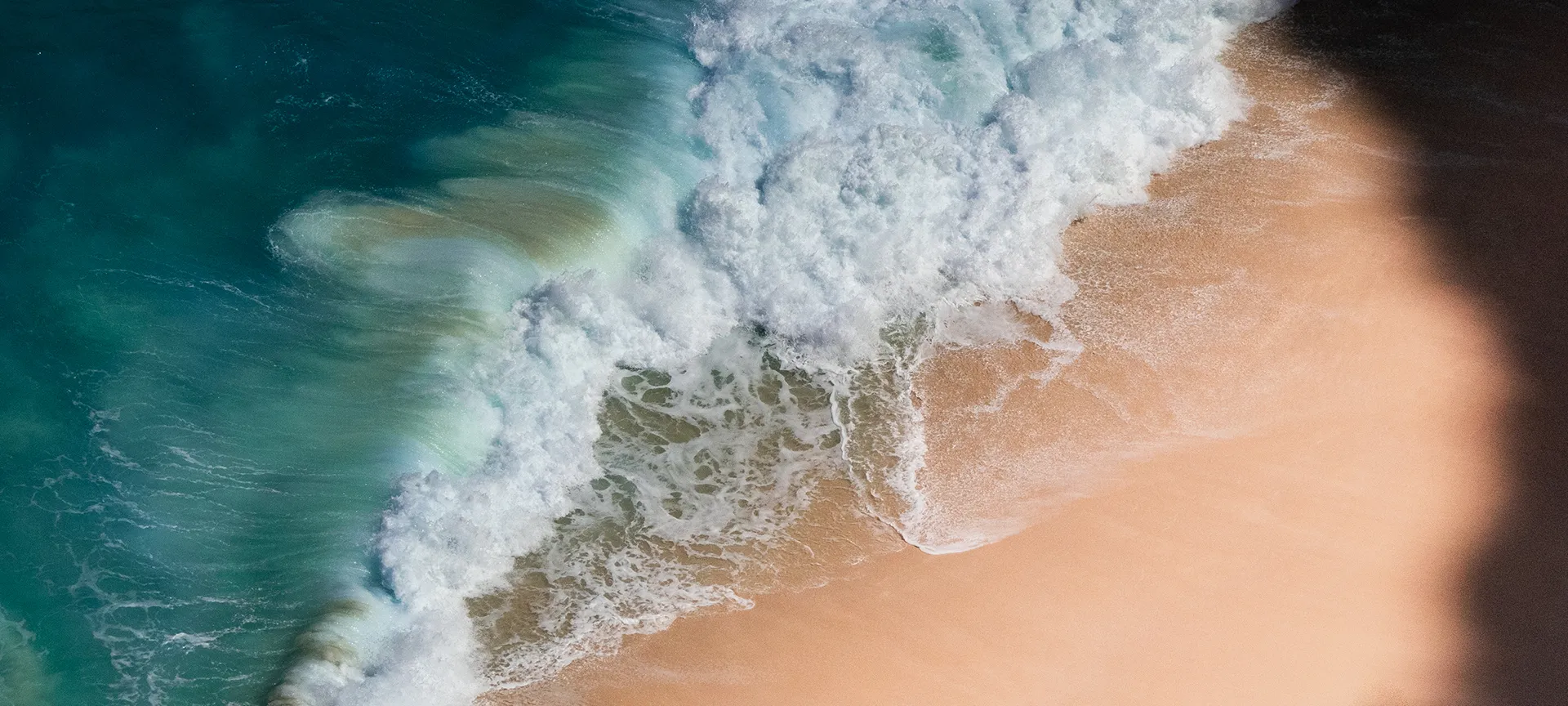 Verdant fields and clifftop theatre
I visited Bali as the last stop on my six-month-long Southeast Asia journey. I came to Bali immediately after I traveled across Myanmar, which I enjoyed immensely. Arriving amidst the lush and green Balinese vegetation was a drastic change to the desert-like scenery of Bagan.
Bali welcomed me with sunny days and occasional raindrops in March, the last month of its rainy season. It was a perfect time to visit the famous Balinese rice terraces, Tegallalang and Jatiluwih, which were a surreal green in March, just before harvesting season.
The breathtaking Jatiluwih rice fields are spread over a mind-blowing 600 ha (1,480 acres) and are UNESCO-protected. Walking amid such vast greenery seemed out of this world. The Instagram-famous Tegallalang rice fields are significantly smaller than Jatiluwih but no less awe-inspiring.
As a cultural traveler, I enjoy learning about local culture and traditions, eating local food, and getting unique experiences. So, visiting stunning Balinese temples was on my Bali itinerary. I particularly loved the impressive Ulun Danu Beratan Temple, Uluwatu Temple, and Tanah Lot Temple. The Uluwatu area, with its dramatic cliffs and white sand beaches, turned out to be my favorite area in Bali. And watching the traditional Balinese Kecak dance at the cliff-top Pura Uluwatu at sunset was among my most memorable moments in Bali.
So, if you're planning a trip to Bali, here are my recommendations: consider staying in the Uluwatu area, visit Bali's rice fields and temples, enjoy the beaches and tropical Balinese flora, and don't forget to watch the Kecak dance at Uluwatu temple!
Recommended by Milijana from World Travel Connector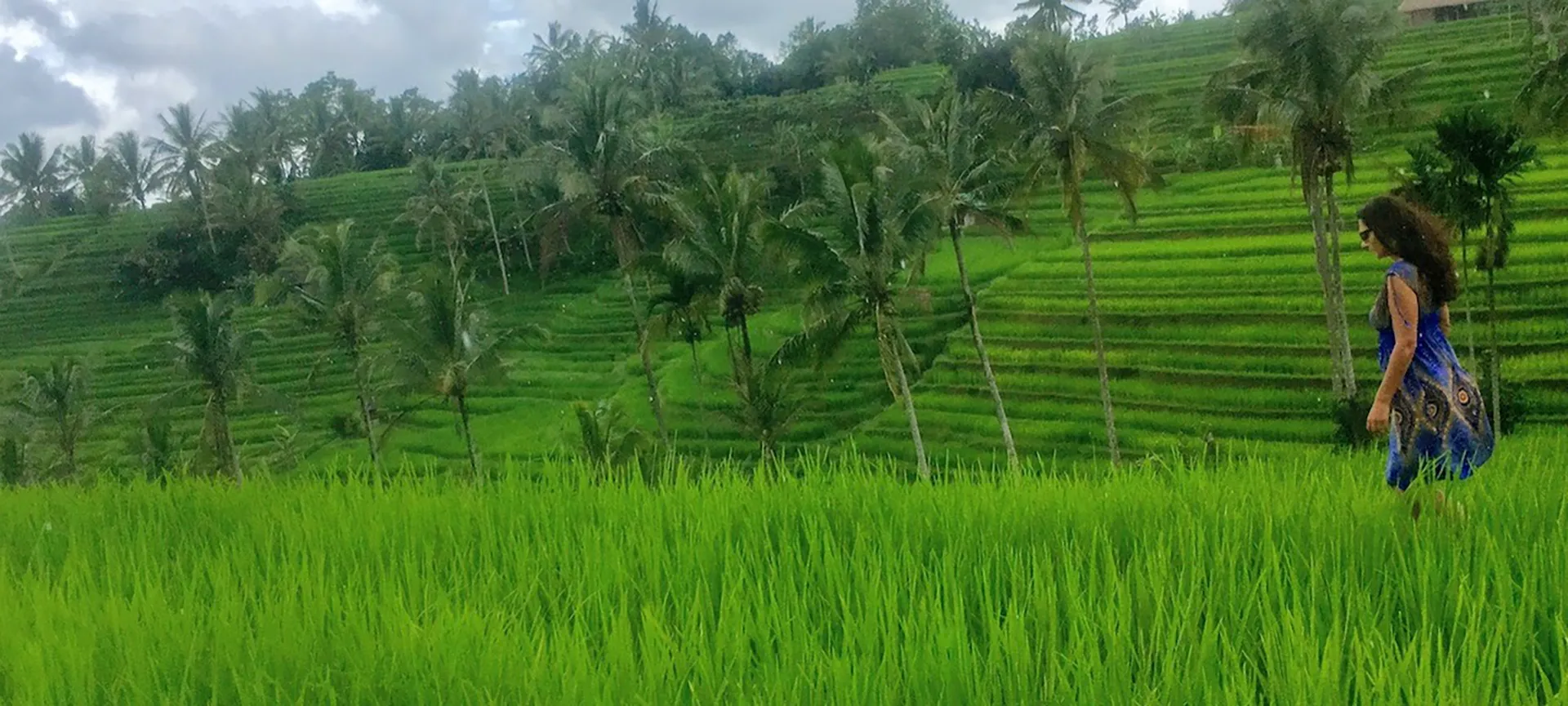 Hanging out with Sunfish and Manta Rays
Being a certified Rescue scuba diver, I am always on the lookout for amazing and unique dive sites around the world. And last year, I decided to venture to Bali to dive its exceptional waters. Surrounded by spectacular beaches and oceans, Bali is an ideal place to dive that suits both beginners and experienced divers.
During my four-day scuba diving holiday in Bali, I experienced some fantastic dive sites and saw some distinctive marine life. The dive that sticks most in my mind was at a site near Nusa Penida, where I was lucky enough to see Mola Mola!
Also called an Ocean Sunfish, Mola Molas are one of the world's largest and heaviest bony fish. And you can see them in the waters of Bali! There are only a handful of places in the world where you can see these huge fish, so it is a very special experience for divers.
Apart from Mola Molas, I also saw Manta Rays as Bali has a specific dive site that is a cleaning station for Manta Rays. This was an awesome sight as the Mantas just circled around us as we sat down on the ocean floor watching them.
The four days I spent diving in Bali have so many exceptional memories for me, and I highly recommend the experience to others. The dives I did were with Intrinity Divers dive centre, and they were very good at taking care of us.
Recommended by Raksha Nagaraj from Solopassport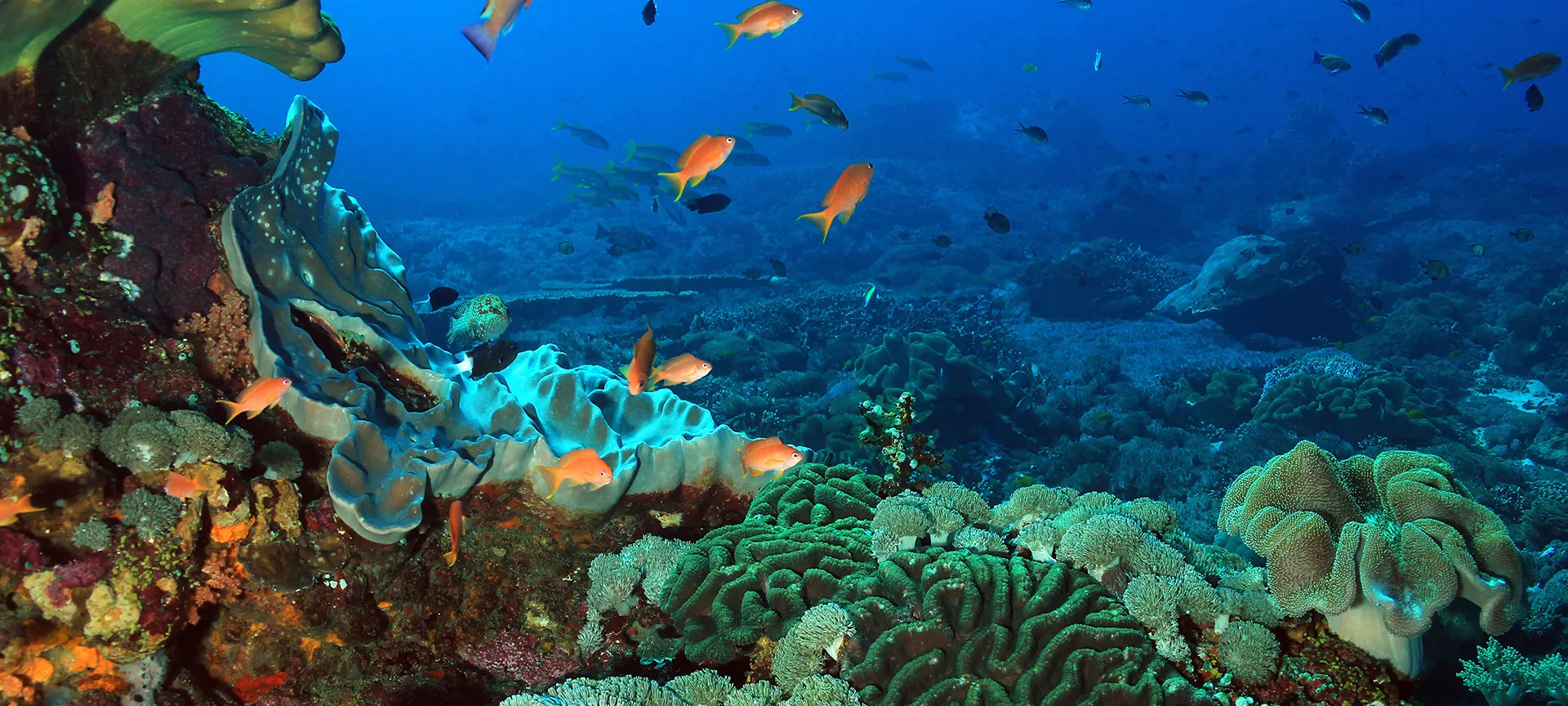 Little breakfast thieves!
My two-week adventure to Bali has been the best trip of my life. My husband and I visited a few years back with a teacher travel group. We were all strangers to start with, but due to the fabulous cultural experiences we shared, we quickly became and have remained friends.
We started the tour with visits to beautiful temples. As all the temples are open to the public, it allowed us to watch rituals of offerings and water baths and see families in their lovely ceremonial costumes.
We also drove into the centre of the island and went on waterfall hikes, guided by charming young women entrepreneurs. On one of those drives between towns, we pulled over to the side of the road. We had come across a cremation ceremony in progress. There were multiple families in traditional clothing, an orchestra, and the grand "floats", which were set afire as we watched. Our knowledgeable guide informed us of the traditions and significance of everything around us. It was an incredible experience, to say the least.
One early morning found us hiking up Mt Batur. We left at 3:30 am and spent three challenging hours climbing in the dark to reach the top. The last half hour was so steep we were on all fours!
Once we arrived, we ate breakfast while waiting for the sunrise and that simple egg sandwich was the best thing I ever ate. When daylight came, it turned out it was too hazy to see the sun, but that didn't stop the Monkeys from showing up in the hopes of sharing our breakfast.
And that wasn't our only meeting with these cheeky creatures. When we headed to Ubud, we stayed in a hotel right across the street from the Monkey Forest. Every morning at 8 am, they invaded our hotel grounds, raiding the trash cans and perusing the grounds near the dining area for breakfast leftovers. They are truly little thieves, and I'm pretty sure they must have picked up a watch or two because they always seemed to know when it was mealtimes!
Our group was also fortunate enough to visit several schools on our travels. The directors and students welcomed us with genuine hospitality. They gave us tours of their facilities and answered our many questions.
We went to a school of students with disabilities and another that is considered the top in the country. The differences were striking. It was an unforgettable experience I will always treasure.
I enjoyed a fantastic trip to this beautiful island, and immersing myself in the local culture of Bali has been the most amazing travel experience of my life to date.
Recommended by Dawn Robson from Culture Feasting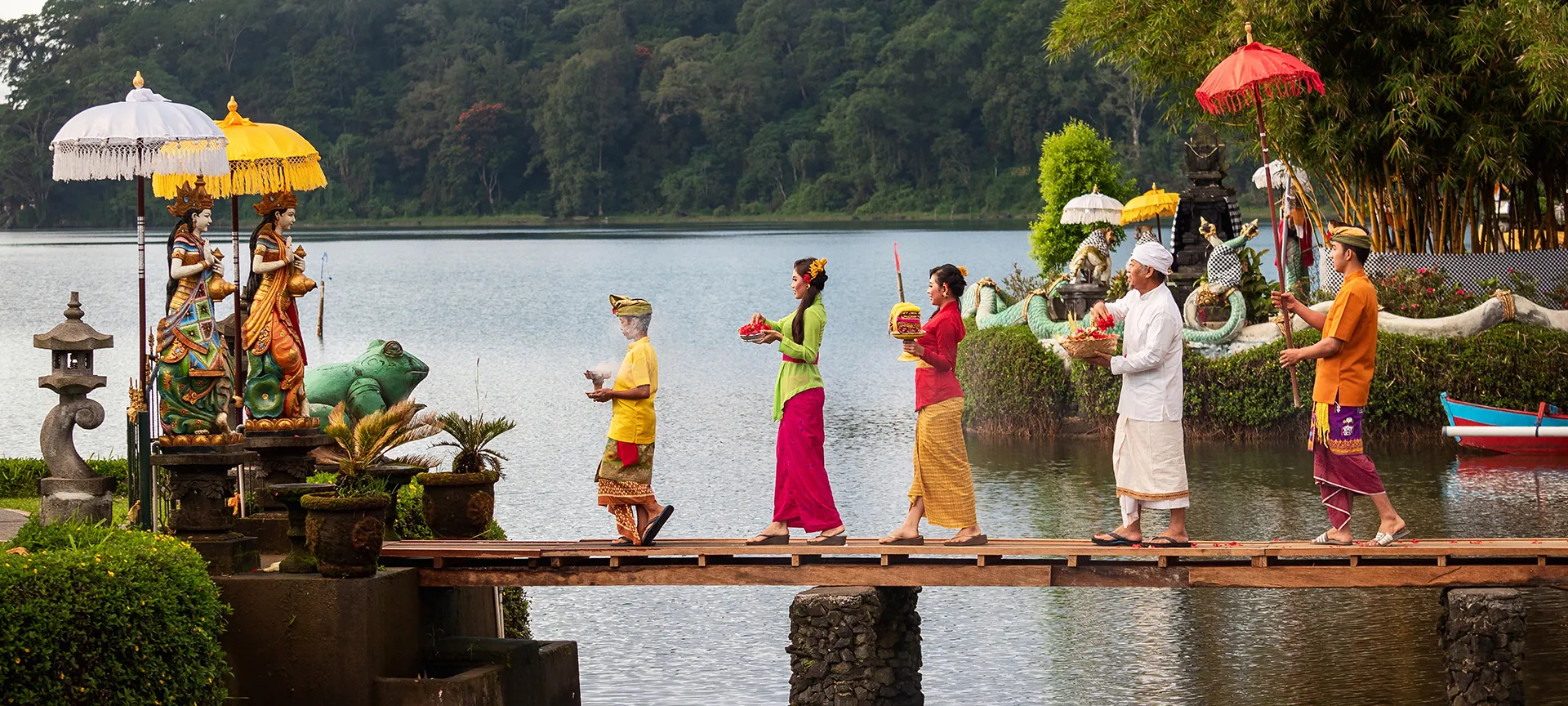 Teenage kicks at Waterbom Waterpark
After 20 visits to Bali, I'm still finding new things to do! On this trip, I visited with my blended family, and it also happened to be my first trip with three teenagers.
What I love about Bali is the variety of accommodations. You can stay in a luxury private villa by the ocean or a small jungle hotel room in the middle of Ubud.
While in Ubud, we loved hiring scooters to visit the Monkey Forest and also for the freedom they offer. But this time, we also took a tour to Lemukih Waterfalls, a challenging 5-hour hike with a stunning reward and a refreshing natural water slide!
Our family are big fans of waterslides, and so, of course, Waterbom Bali, Asia's #1 waterpark, is always on our list of things to do. In my old age, I avoided slides like the Climax, but the teenagers had no such fear!
I've always avoided Kuta and its tourist center, but this time with teenagers, Kuta became the easiest place to entertain them, from Frankenstein's Laboratory and special effects face painting to the Bali Garden Resort's 3m pool.
We managed to cover multiple areas on this trip. Kuta, Canggu, Ubud, and Nusa Dua. Each area offers something completely different that feels like a whole other holiday. And while I love all of Bali, I can share that Ubud still is my absolute favorite. And always will be.
Recommended by Erin Holmes from Explore With Erin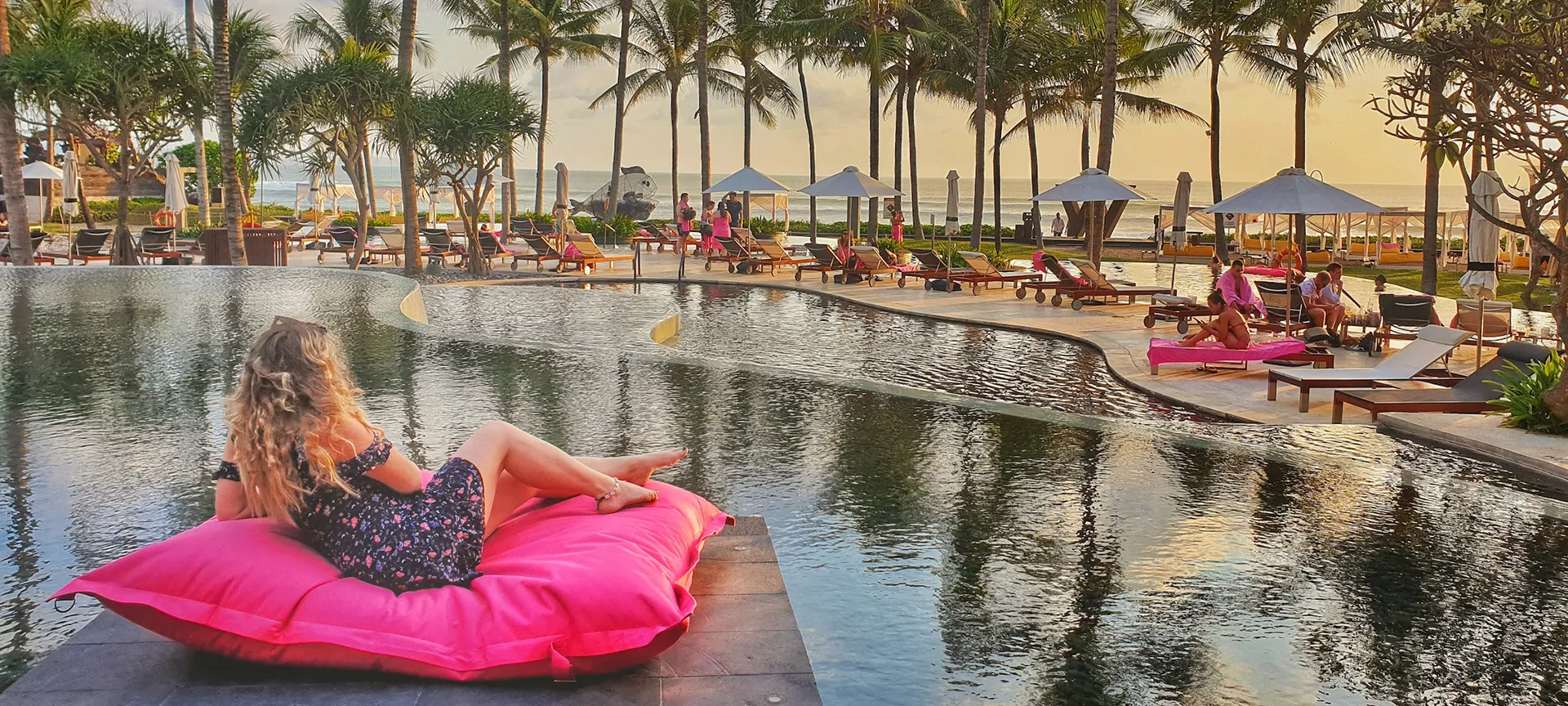 So good you'll need to go back
I've just returned from a solo trip to Bali and had a great time exploring the island. I loved riding around on the back of a motorbike, immersing myself in the local culture and hanging out in the coffee shops.
My first stop was Canggu, where I met some fun people at my guesthouse and enjoyed the spectacular beach sunsets that Bali is so famous for.
Then, in Ubud, Bali's cultural centre, I watched a traditional dance performance at the beautiful Saraswati Temple and visited the Holy Water Temples at Tirta Empul and Sebatu. I found feeding the fish in the temple pond a peaceful and relaxing way to enjoy the beautiful surroundings. While in Ubud, I also discovered the Bali yoga scene, ate spectacular breakfasts at the local cafés and met some mischievous macaques in the Monkey Forest!
Bali has a lush, tropical landscape, and the island's mountainous centre is a bit off the beaten track and a delight to visit. The UNESCO world heritage Jatiluwih Rice Terraces and the stunning waterfalls of Munduk were highlights for me.
I also loved the spiritual Hindu Temples at Besakih and Lake Beratan set amongst stunning mountain scenery. The Instagram-famous Gates of Heaven at Lempuyang Temple and the elegant gardens of the Tirta Gangga Water Palace were also beautiful places to visit.
In the shadow of lovely Mount Agung, an active volcano, I learnt how to make the best chicken sate and peanut sauce I've ever tasted at Bali Asli Restaurant. And the nearby black volcanic sands of Amed Beach were the perfect place to watch the sunrise and spend the day snorkelling.
Bali has a lot to offer, and it's an affordable destination and a fascinating, exotic location. I've already booked my next trip to Bali and plan to explore Lombok and the Gili Islands.
Recommended by Linda from Muy Linda Travels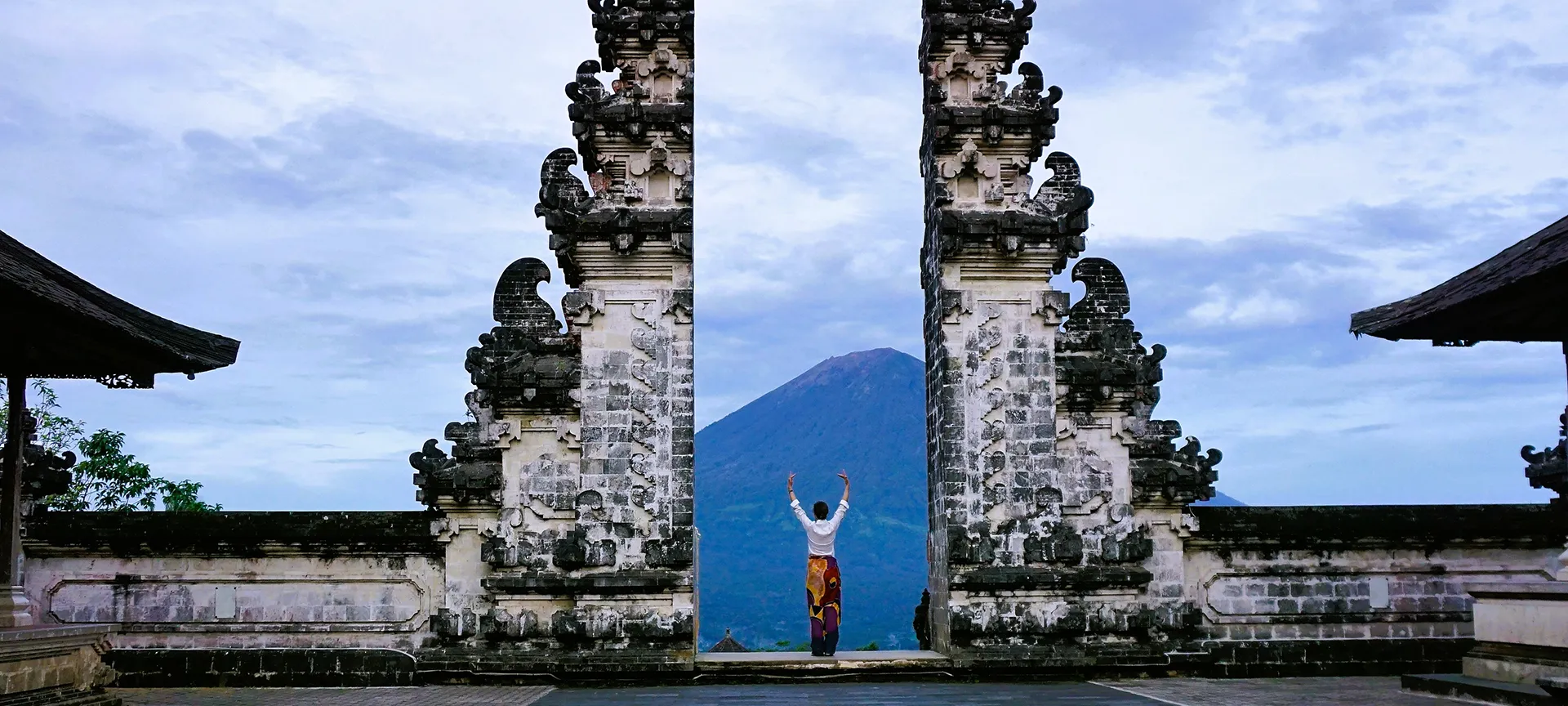 Pure relaxation on a resort holiday
I have been to Bali what feels like a million times; however, last year, we decided that instead of staying at our usual Seminyak / Canggu locations, we would base ourselves in Nusa Dua and, in particular, the St Regis Nusa Dua. I am so glad we did because my husband and I had such a great time. We made no plans and just enjoyed the freedom to explore Nusa Dua and our resort.
When we arrived, we were welcomed with a surprise villa upgrade! So think Bali villa but in a resort, so we had the best of both worlds, with a butler service, a private pool, and a villa that felt far away from any hotel. The staff were accommodating and went well beyond what was expected of them.
Our days consisted of walks on the beach, water sports activities, relaxing in our villa, and enjoying the resort facilities. It was such a different experience from the visits we'd had before, and we had such a special time at rhe St Regis Nusa Dua. Although we did sneak out of the resort a few times to eat seafood on the beach at Jimbaran Bay, have drinks at Rock Bar, and enjoy an afternoon at El Kabron!
Bali has always been our go-to destination as a family, a romantic getaway, and a great place to spend with friends. Although a lot has changed in the many years since I started coming here, it will always be a very special place to visit.
Recommended by Paula Barnes from Truly Expat Travel
Unforgettable family fun
When we returned from the most amazing holiday in Bali with our kids, we couldn't stop raving about it and telling everyone they should book a holiday to Bali too.
First of all, it's just so different from Europe – the culture, the people, the food – everything is so vibrant and different. And speaking of people, everyone we met in Bali was incredibly friendly and welcoming. It made our trip even more special.
We did so many amazing things in Bali, it's hard to know where to start! We watched the most breathtaking sunsets at Jimbaran Beach, visited the stunning rice fields near Ubud and walked around ancient temples. We had a blast at Waterbom Bali water park and enjoyed an unforgettable meal at Pirates Bay Bali restaurant, where we went on a treasure hunt with pirates – the kids absolutely loved it!
Plus, the massages on the beach were out of this world! We all got pampered and relaxed while listening to the sound of the waves crashing on the shore. And let's not forget about the surfing – Bali is a surfer's paradise! We caught some incredible waves.
And last but not least, the 5-star hotels in Bali with pools and kids' clubs are incredibly affordable, which made our stay even more luxurious and enjoyable.
Overall, Bali was an unforgettable experience for all of us. I can't recommend it highly enough – from the friendly people to the amazing activities, it's a holiday that leaves you with memories to last a lifetime.
Recommended by Jo Koni from World Wild Schooling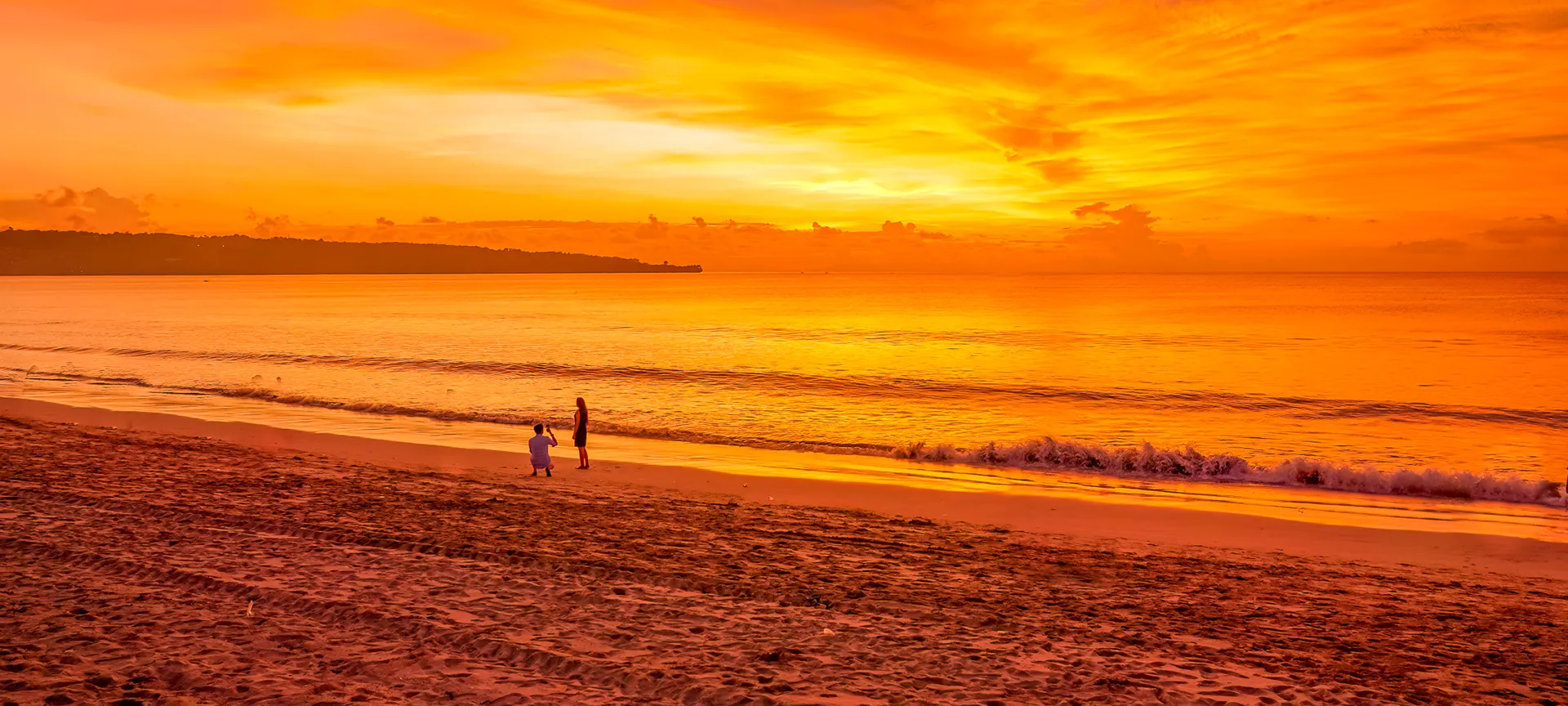 Empowering the soul on a spiritual retreat
I went alone on an unforgettable week to a spiritual, holistic retreat in Bali! After a bad break-up, I felt like I needed to get myself together again and detox from the world. And you can always count on Bali to make your soul feel better!
The Bali Holistic Retreat immersed me into daily meditations and yoga, something I never imagined I would actually enjoy! I learnt all about chakras, met with energy healers, shamanists (yes – we linked to the spirit world!), astrologers, reflexologists, kinesiologists, nutritionists, reiki masters and life coaches. You name it – I met them!
Not only that, but I went to the stunning Tirta Empul Holy Water Temple, which is known for its healing powers and purification. And to finish it off? I only went and met a Listrik Healer who has electric healing powers and gave me an electric massage with her bare hands!! Hard to get your head around, right? It was literally mind blowing and nothing short of incredible!
At first, I was sceptical about going on a spiritual retreat, but I booked it on a whim last minute, and it turned out to be one of my favourite trips ever! I met some truly incredible people at the retreat. Plus, I stayed an extra few days in Bali at the end to enjoy the beauty of the island and visit Ubud, the rice fields, Uluwatu and a few more popular spots.
There was honestly no better place to go on a spiritual retreat than Bali, where the spectacular setting made the experience even more special! So, if you're open to learning and reflecting on your personal and spiritual growth, book a retreat in Bali. It will open your eyes and motivate and empower your soul!
Recommended by Catrina from 24 Hours Layover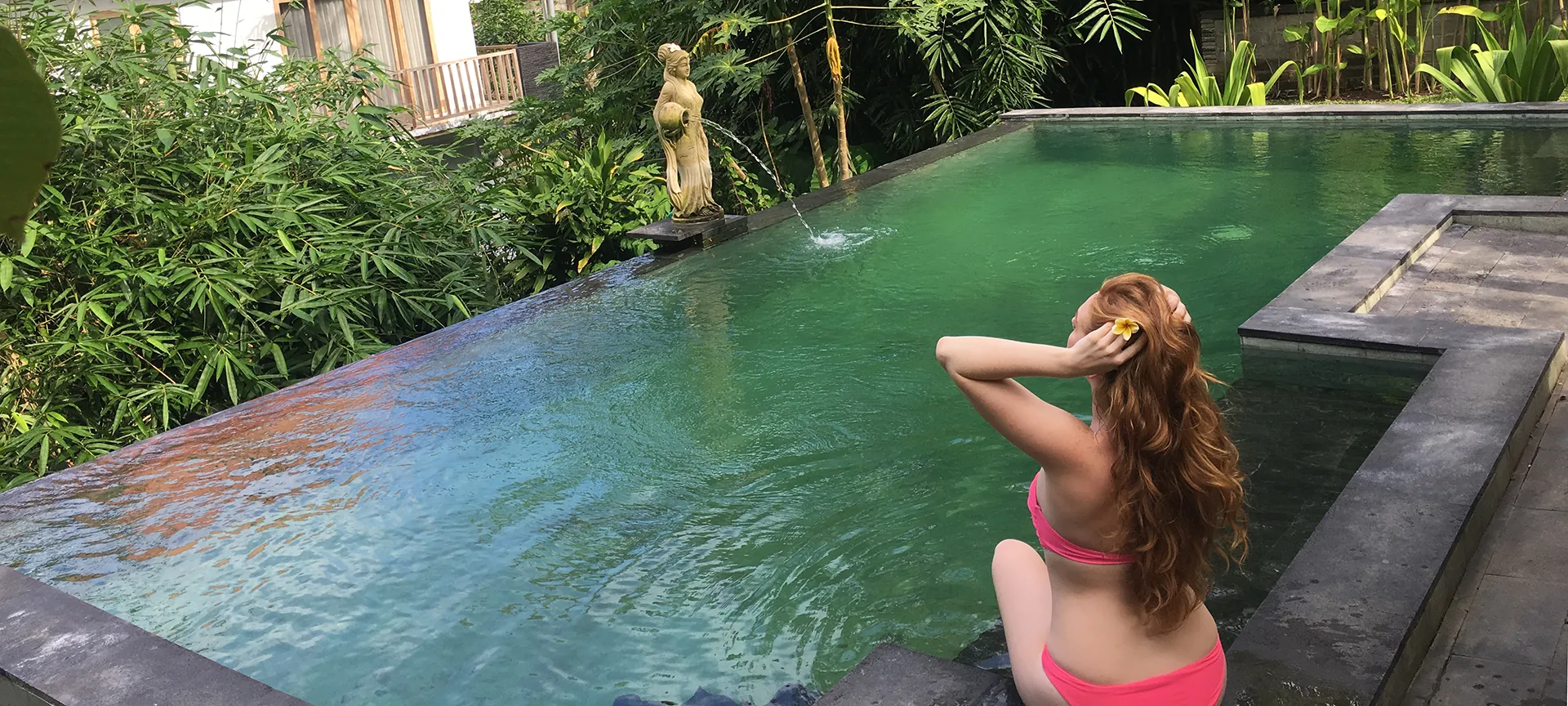 Careful, you might never leave!
My partner and I chose Bali for our honeymoon destination, and our trip was an absolute dream come true!
What we love the most about Bali is its kind and friendly people. Everyone was so welcoming, and the staff at our accommodation went above and beyond to make our honeymoon extra special and unforgettable.
We stayed in one of the most gorgeous private pool villas in Ubud, making us feel like royalty. We had the most amazing time relaxing by the pool, sipping on fresh coconut water and basking in the lush greenery surrounding us. Every morning, we woke to the sounds of nature and the aroma of tropical flowers.
Our days were spent exploring the beautiful rice paddies such as Tegalalang and Alas Harum (which boasts a fantastic pool), indulging in mouthwatering Indonesian cuisine, and experiencing the traditional Balinese culture. Some of our favourite cultural experiences included a Kecak dance show at Uluwatu Temple during the sunset and visiting Pura Lempuyang, which overlooks a volcano.
If you're looking for a romantic getaway like no other, Ubud is the place to be. And the best part is that luxury accommodation in Bali costs roughly the same as mid range hotels in Europe or the USA.
We loved our trip to Bali so much that fast-forward a few years later, and here we are, living on the island of Gods and loving every minute of it!
Recommended by Mal & Robin from Where To Stay Bali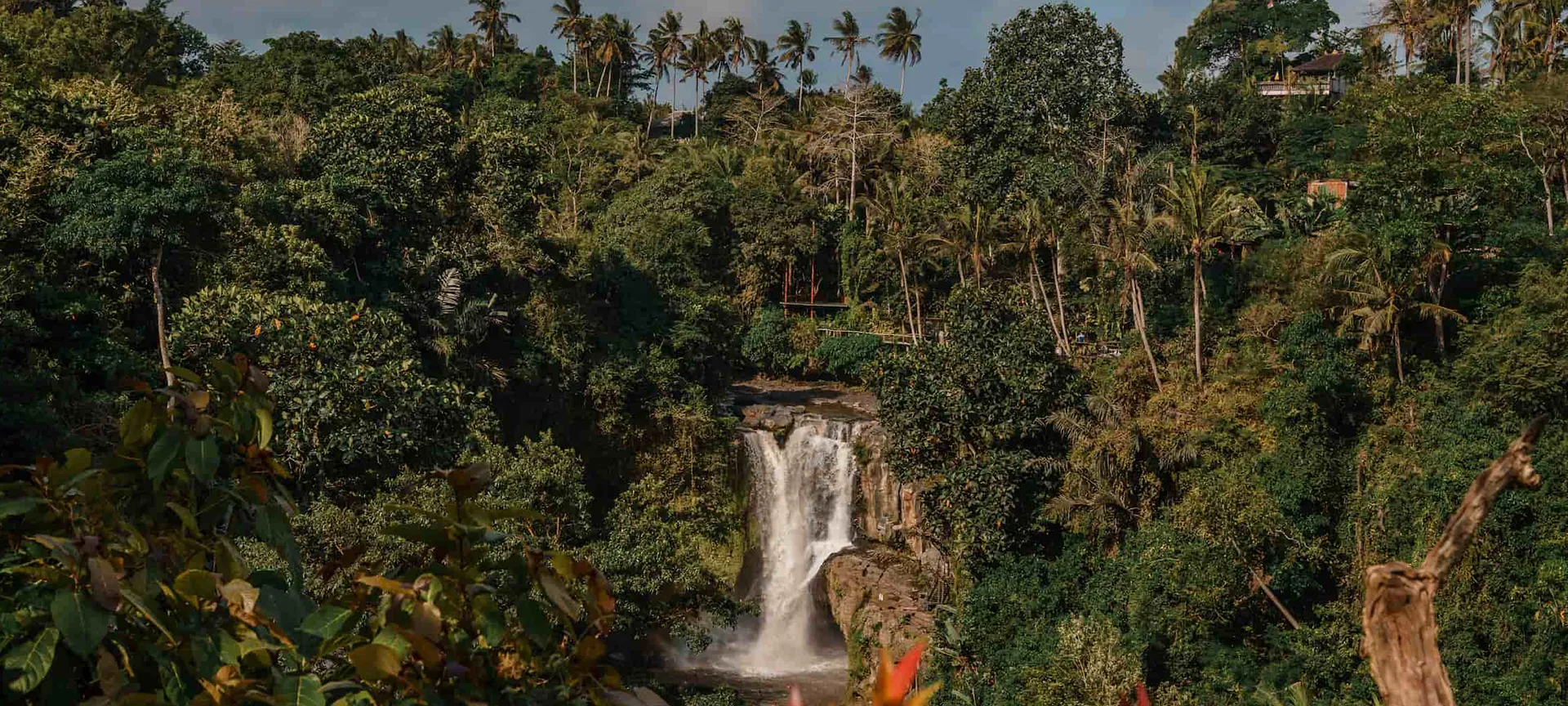 Starting the new year off right
Exploring Bali is one of my favourite things to do, and finally, after 15 visits over the last 20 years, I was staying in Bali over Nyepi. One of the most revered days on the Balinese calendar, Nyepi is the day the island of gods falls silent to celebrate the Bali New Year. The airport shuts, no vehicles are allowed on the roads, and even tourists are not permitted to leave their resort and villa accommodation grounds.
I decided to venture solo to Munduk in North Bali for the full authentic experience. I stayed at Munduk Moding Plantation, the most beautiful and serene resort with a stunning infinity pool. Their Nyepi package was fantastic value and included being involved in the Ogoh Ogoh parade on Nyepi Eve. The energy of this event was electric as the locals paraded the demonic statues they had created through the village streets.
In typical Balinese style, the locals were wonderfully hospitable and welcomed us with open arms to help celebrate with them. We walked for hours through the rain and sunshine, not noticing our sore, wet feet or how much our faces were hurting from smiling constantly.
The next day, the day of silence, at Munduk Moding Plantation involved massages, relaxing by the pool, indulging in delicious food and witnessing a very peaceful sunrise and sunset. Then, after dark, we gazed at the night sky, marvelling at the bright stars. A wonderful way to complete a perfect Nyepi day.
If you are seeking an unforgettable Balinese cultural experience, staying in North Bali for Nyepi will tick all the boxes.
Recommended by Kate Comer from Rolling Along With Kids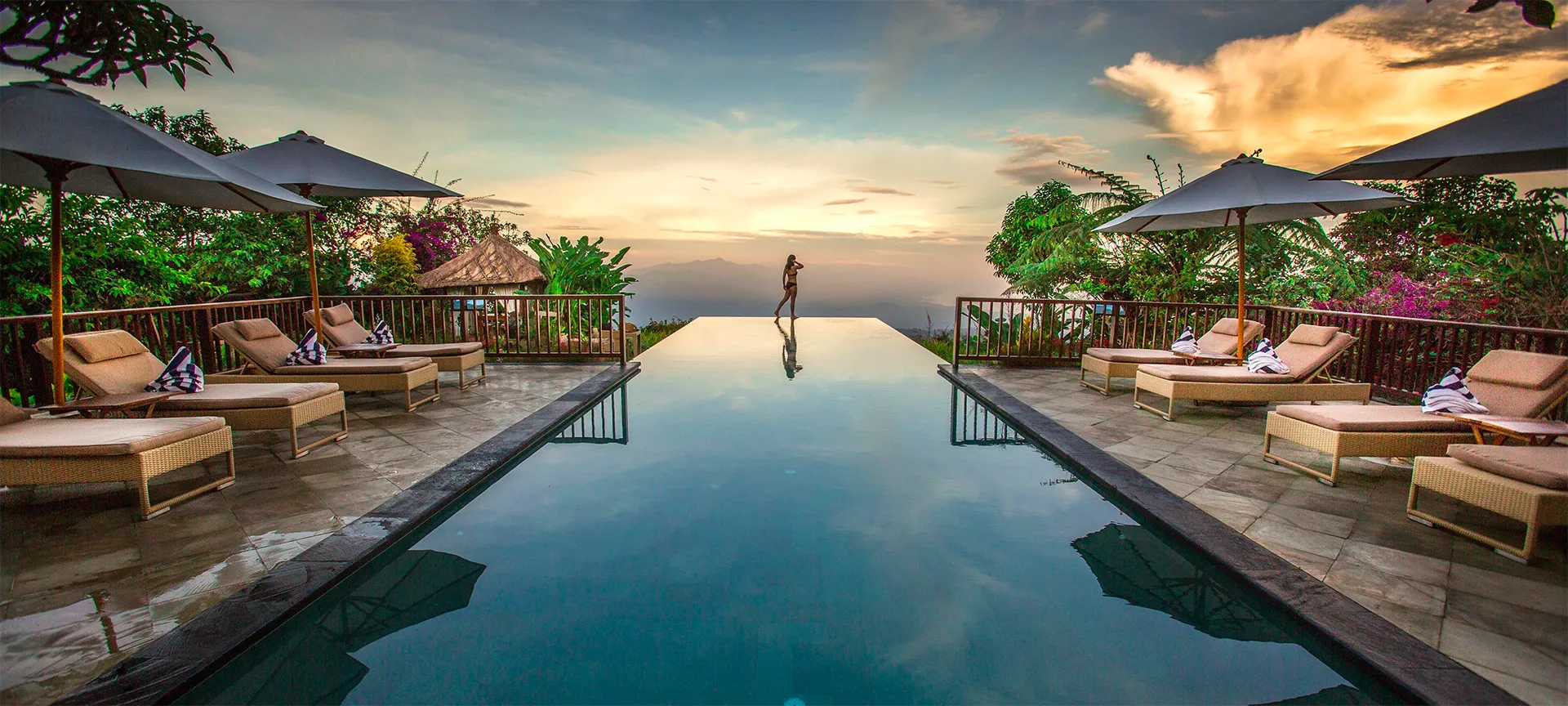 Full-on birthday fun in Bali
I spent a fantastic 10 days in Bali for my 30th birthday. Just me, my four close friends and the adventure of a lifetime!
Our trip was full-on. We started in Denpasar, which many people miss, but it was here that we discovered more of the culture and local way of living than anywhere else. And, many people asked for photos with us, showing just how limited tourism is in the capital city!
Ubud was next on our itinerary; the luscious rainforest, rice terraces and mountains were calling us, and they didn't disappoint! The vibe here was super chilled. We ate lots of good food, saw so many wonderful temples, and the views were incredible! If you're looking for fun, don't miss the Ubud Bali Swing, or take it up a notch with a white-water rafting experience. This region really has it all.
The only downside of Ubud is the weather can be volatile. We stayed in a luxury jungle chalet with several beautiful infinity pools, but the rain poured every afternoon as if on cue. We travelled in October, the start of the rainy season, and it really did live up to its name!
After all that adventure, it was time to relax around the different beach resorts of Seminyak and Kuta. Kuta is more party orientated, whereas Seminyak still has a lot going on but feels more sophisticated and laid back.
Overall Bali is an amazing destination, and we only managed to scratch the surface, leaving us plenty of reason to go back!
Recommended by Kerry Reed from VeggTravel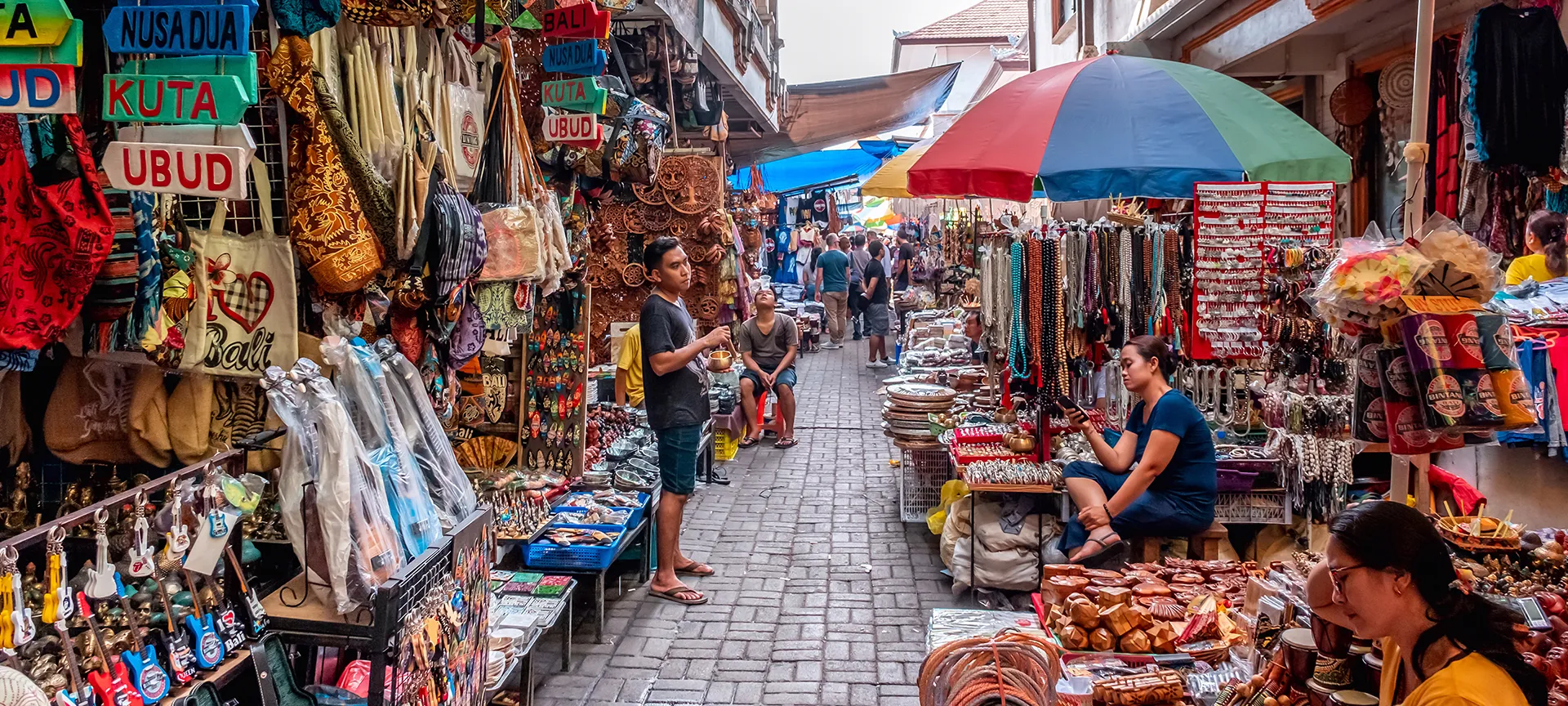 So, what do you think?
Have our intrepid travellers convinced you that you need to visit Bali ASAP?
Did you enjoy their tales of trips spent in 5-star beachfront resorts, luxurious jungle retreats in Ubud, and private villas with butler service in Nusa Dua?
Well, what are you waiting for? Take a look at the many gorgeous accommodation options now and start planning your holiday of a lifetime!
Bali holds a special place in Anita's heart. She loves everything about it, from the beautiful beaches and incredible hiking to the relaxed atmosphere and friendly people. She spent her time in Bali learning to scuba dive, taking yoga classes on the cliffs of Uluwatu and exploring hidden waterfalls by scooter in the forests around Ubud.