Bali, the island of the gods, is a paradise destination with something for absolutely everyone. This tropical island is home to stunning beaches, world-class surfing, fantastic snorkelling and diving, lush jungles, towering volcanos and bubbling hot springs. There are thousands of ancient temples, internationally renowned yoga and wellness retreats, wild nightlife, vibrant festivals, delicious food, and unimaginably luxurious resorts.
But Bali's appeal goes beyond its physical beauty, balmy climate and abundant activities. There is something about this island that draws people in and makes them want to return again and again. Whether it's the famously friendly people, the eclectic mix of cultures, the widespread spirituality, or the laid-back vibes, something elevates Bali above your average summer holiday destination. And a visit to this spectacular place is one you'll remember forever.
With so much on offer, it can be difficult to know where to start. So, we've put together our A to Z of Bali to help you plan your holiday of a lifetime on this magical island.
A | B | C | D | E | F | G | H | I | J | K | L | M | N | O | P | Q | R | S | T | U | V | W | X | Y | Z
Amed
If you want to get off the beaten track, head for the far eastern tip of Bali, where you'll find a collection of seven charming villages making up what is commonly called the Amed coast. This peaceful area is prized for its laid-back vibe, chain of grey and black sand beaches, meditative yoga retreats, and some of Bali's best snorkelling and diving.
This area was overlooked by tourists for a long time, and so development has been slow to arrive. But it's happening now, and you'll find increasingly upmarket accommodation options springing up along the coast. A growing cafe culture and health food scene is also popping up between the traditional beachside warungs which serve delicious Indonesian fare.
(Top Tip: when you're eating here, be sure to sprinkle some local salt on your meals. Salt has been collected in Amed for decades but has recently become a highly sought-after condiment thanks to its traditional production methods and refined taste.)
In between sampling the local fare, spend your time exploring volcanic beaches, enjoying views of Mt Agung, practising restorative yoga, or taking a trip to nearby Pura Lempuyang. Head to Jemeluk Bay to enjoy incredible snorkelling over coral gardens and a shipwreck, accessible right off the beach, then stick around for a spectacular sunset. Or book a freediving or scuba diving session to get closer to the coral and the famous Liberty shipwreck, regarded as one of the best dive sites in Bali.
This peaceful area is the perfect antidote to the hustle and bustle of the more popular areas of the island. Head to Amed to drop out, switch off, and relax.
Arak
Fancy trying the local tipple? In Bali, it's arak, a clear, fermented spirit commonly made all over South Asia, from rice, coconut, palm or sugar cane. Thanks to the many ways of making it, this spirit can vary widely in taste from a potent, paint-stripper-like flavour best masked by sugary mixers to an enjoyable smooth flavour a little like Japanese Sake. Likewise, it can change just as widely in strength from around 12% to upwards of 50%.
In Bali, it is most commonly made from rice or palm and is enjoyed regularly by locals who use it in religious ceremonies, as a health tonic and, of course, as a cheap way of getting drunk. The latter is also the main reason it appeals to tourists, and chances are you'll see visitors imbibing this budget-friendly-yet-potent spirit in great quantities, especially in the party areas.
You'll also probably see it for sale by the roadside in unmarked plastic bottles at impossibly low prices. This is because Arak is Bali's version of moonshine. It's brewed all over the island by anyone who fancies giving it a go and sold dirt cheap to anyone who wants it. But however tempted you might be, it's wise to resist these unlicensed traders because, if poorly made, arak can be dangerous.
In the past, bad arak has caused methanol poisoning, illness, blindness and even death. These incidents happen less often these days, but it's still not worth the risk. Instead, stick to buying your booze in licensed bars and restaurants, where it's still plenty cheap enough, or in reputable wine shops that sell arak in ornate bottles as a popular souvenir.
If you want a more authentic but safe experience, head to the Tri Eka Bhuana Village in the Sidemen District, Bali's biggest arak-making region. There you can take tours of quality arak distilleries and taste a variety of styles and strengths of the spirit without worrying about any side effects
Babi Guling
Babi Guling is the Balinese version of suckling pig. Originally only served on special occasions and at ceremonies, this tasty dish proved so popular that it is now a staple of Balinese cuisine for locals and tourists alike.
The pig is rubbed and stuffed with aromatic spices, including turmeric, lemongrass, garlic, coriander, shallots, pepper and ginger – then spit-roasted to perfection over several hours. The meat takes on a delicious flavour from the spices and the smoke of the fire to create a mouthwatering dish that'll definitely have you going back for seconds.
A serving of Babi Guling includes a helping of pork, a slice of the crispy golden skin and a scoop of the flavourful stuffing, served on a bed of steamed rice. Depending on the venue, you might also have vegetables or beans, a side of broth, or a serving of sambal.
The best Babi Guling restaurants prepare and roast the meat on-site, and where possible, you should avoid places that buy their pigs pre-cooked from elsewhere. The most popular spots can get through several pigs a day but will stop serving when they run out, so go early to avoid missing out!
Balinese Hinduism
Although Hindus, Christians, Muslims, and Buddhists coexist peacefully in Bali, Balinese Hinduism is the island's main religion, with an overwhelming majority of around 87%. This is in contrast to the rest of Indonesia, which identifies as predominantly Muslim, and is one of the reasons why Bali has such a distinct character from the rest of the country.
Hinduism was brought to Bali from India, but though the two religions still share common roots, Balinese Hinduism differs from Indian in many ways. From the festivals and rites observed to the method of prayer, even to the gods they worship.
This is because Hinduism in Bali was blended with Buddhism and the indigenous beliefs of the island, including Animism – the idea that all things have a soul. This resulted in a religion based on a belief in reincarnation, the veneration of ancestors, a deep respect for the natural world, and a spiritual desire to become one with the universe.
For a long time, Balinese Hinduism was not a recognised religion in Indonesia, treated as just a subsect of Indian Hinduism, but the Balinese persevered, and after a lengthy journey, in 1959, Balinese Hinduism was established as an official religion of the country.
As you will soon see when travelling in Bali, religion and spirituality are an integral part of daily life all over the island, as evidenced by the many festivals, temples, and offerings on display, plus the sheer amount of gods in evidence.
The Balinese worship the original Indian Hindu gods, representations of the one Balinese Hindu god, elemental gods, ancestral gods and ancient local deities. So many, in fact, that Bali earned itself the nickname Island of the Gods.
Bintang
You won't be in Bali for long before you come across Bintang, be it in a bottle, a frosty glass or stamped across the chest of a vest-wearing backpacker. Bintang is an institution in Bali, sure there are other beers on offer, but this is the only one you need to know about.
The pale gold lager has a clean, refreshing taste that goes down wonderfully whether it's accompanying a spicy meal, alongside a beautiful sunset or as a post-surf thirst quencher. And the best part is it is reasonably priced, especially during the many happy hours when 2-4-1 offers make these tasty beers even more enjoyable!
Canggu
The popularity of this once-over-looked village is growing by the day as it quickly establishes itself as the cool new place to hang out in Bali. Located on the stretch of coast above Petitenget and Berawa, Canggu is close to several other popular resort hotspots.
It used to be a favourite location for expats & digital nomads and home to one of the first co-working spaces on the island. Recently the village has seen a lot of development with more hotels and high-end villas springing up, along with a raft of shops and restos. Canggu is still home to cool street art, funky bars, fashionable boutiques, abundant gyms, tattoo studios, a foodie scene to rival Ubud's, and possibly the best cafe culture on the island.
Canggu is a bustling place to visit. Linger over healthy breakfasts at the coolest brunch spots, tackle the surf on the beautiful beaches, get some work done at a co-working hub, take a yoga class, then watch the sunset at amazing beach clubs before diving into Canggu's diverse nightlife.
Caning Sari
The making and laying of offerings is a regular part of daily life in Bali, and Caning Sari are one of the most common ones you will see. They are placed at temples, shrines and other sacred sites as a gesture of gratitude to the gods. And since the offerings must be made new each day, it's a common sight to see (usually) women making these offerings throughout the day.
Caning Sari are made from woven trays of bamboo or palm leaf and contain colourful items with symbolic significance. They can include flowers, incense, coins and small portions of food such as rice, chicken, fruit, sweets or crackers.
These pretty and intricate offerings are laid on shrines for the higher gods and on the ground for lower gods and demons. This means they often end up on the roads and footpaths and are difficult to avoid. However, you should try to avoid them, not just out of respect but because stepping on a Caning Sari is considered bad luck, especially if you do so before the incense has burnt out.
Denpasar
The island's capital city is a sprawling hub of Balinese life that many tourists never see. Most people fly into Ngurah Rai International Airport to the city's south and then head straight for their resort accommodation without ever setting foot in the city itself. Now, we understand the urge to get to the beach as soon as possible, but if you skip Denpasar altogether, you are missing a chance to glimpse modern, urban everyday life in Bali in all its chaotic glory.
It's different from the Bali you hear so much about. It's not a beach resort or a zen paradise surrounded by jungles and paddy fields but an ever-growing metropolis full of government buildings, markets, shopping malls, restaurants, schools, offices and temples. And prices in Denpasar are lower than elsewhere on the island as the primary market is locals, not tourists!
Plus, the city is home to some must-see cultural sites, such as the history-filled Bali Museum. The Taman Werdhi Budaya (Bali Arts Center) is the primary location of the annual Bali Art Festival. It contains exhibition spaces and a performance centre showcasing Balinese art in all its forms.
The Bajra Sandhi Monument is an impressive temple-like building that serves as a monument to the struggles of the Balinese people. It contains a fascinating museum depicting scenes from Balinese history and offers stunning views of the city from the third floor. It stands in front of the Bali Governor's office at the centre of vast gardens, which are a popular recreational space for locals.
Also, if you're travelling with children, you can find plenty of family-friendly activities that offer a break from the beach – such as the 3D Art Museum, Upside Down World, or the Turtle Conservation and Education Centre.
Echo Beach
Despite being a suburb of already very cool Canggu, Echo Beach manages to carve out a character all of its own due to its grey-black sand beach, stunning sunset views, and powerful surf breaks, which make it one of the premier surf spots in Bali.
The local name of the beach is Pantai Batu Mejan, after a centuries-old temple which is adjacent to the shore. However, the nickname has well and truly caught on, and you'll see plenty of 'far away in time' lyrics and 80's style graphics painted and printed all over the place, adding to the area's unique vibe.
The streets are filled with surf shops, board rental and repair huts, bars and cafes with laid-back surfer styles and beach-side accommodations ranging from hostels to high-end elegance. There are plenty of surf schools too, and we recommend heading for them unless you're a pro surfer. The waves at Echo Beach are not to be underestimated, so even if you don't want a lesson, have a chat with the instructors and make sure you're heading out to the right spots for your skills, so you don't accidentally end up getting barrelled over a reef!
If you don't surf, relax and sunbathe on one of the many loungers that line the beach, grab a drink in a bamboo beach club, enjoy deliciously fresh seafood, and soak up the stunning panoramic sunset views. And don't forget your camera, this place is almost as popular with photographers as surfers.
Elephants
Even though elephants are not native to Bali, many of the magnificent creatures live here. They've become a symbol of the island, and seeing them up close is a bucket list experience for many people.
The elephants in Bali have mostly been rescued from nearby Sumatra, where they're at risk of extinction from habitat deforestation and poaching. They've been re-homed in Balinese sanctuaries where tourists can visit them.
Visiting one of these sanctuaries is an incredible experience. You can spend a magical day meeting, feeding and photographing the elephants, and watching them roll around and splash in the lakes as they bathe. In some of the centres, you can even ride the elephants, but the ethics of this are debatable and frowned upon by animal rights activists.
On that note, there are undoubtedly wonderful sanctuaries in Bali where the animals are treated with kindness and care. However, there are also copycat centres set up to profit off tourists, and here the elephants are not treated as well. So, if you want to see elephants in Bali (which you should because it is an unforgettable experience), do some research to ensure you're visiting a reputable sanctuary. You'll have a much more enjoyable day, and boycotting the shady operations is the only way to put them out of business.
Families
Travelling in Bali with kids is great fun. The famous Balinese hospitality kicks into an even higher gear around children, and you can expect yours to be greeted warmly and treated with something close to reverence. You'll also be plied with questions about your little ones, so be prepared to sing their praises!
Family-friendly accommodation is abundant on the island, generally at a level of luxury not found in the package holidays of Europe! The south of the island is particularly well suited to family holidays with large waterfront resorts and beach clubs complete with playgrounds, pools and kids clubs and sheltered beaches where even the littlest of paddlers will be safe. This area is also fully supplied with large grocery stores and pharmacies where you can pick up anything you forgot or need for your kids, and also a full range of restaurants to satisfy even the pickiest of eaters.
And older kids will find endless activities to entertain them, from surf lessons and waterparks to visiting turtle hatcheries and monkey-filled forests. One thing's sure, the memories your family makes in Bali will last a lifetime.
Female travellers
Bali is a safe place for female travellers. In fact, far from experiencing any problems, many female travellers (and solo travellers of all genders) enjoy Bali's friendly, welcoming and safe atmosphere.
Balinese men may pay attention to a solo female traveller but generally in an inoffensive manner, and the main crime to affect tourists is bag snatching. So if you use the same level of caution you do in your hometown and keep a close watch on your belongings, you shouldn't have any problems.
Festivals
Bali's diverse mixture of religions and cultures combined with the ever-growing tourism numbers mean that this island's festival calendar is packed with events to suit all tastes!|Plan your trip to coincide with one of the island's biggest festivals, or take the (pretty safe) gamble that there'll be something happening when you arrive. Some of the biggest festivals of the year are:
Chinese New Year: A colourful celebration held in January / February by Bali's Chinese and Chinese descendant population. Chinese and Buddhist temples erupt with decorations, stalls and restaurants sell delicious food, and the streets fill with lion and dragon dancers and cultural performances.
Galungan and Kuningan: One of the largest festivals of the Balinese Hindu calendar. A 10-day celebration of the victory of good over evil. You'll recognise its arrival by the colourful bamboo poles or 'Penjor', which pop up outside houses and along the streets as magnificent offerings to the spirits.
Nyepi: This is the quietest day of the year when all activities cease, businesses close, traffic stops, no lights or fires may be lit, and everyone must stay home. Not much fun. However, the days before the silence are filled with colourful pilgrimages between temples, loud celebrations and the ridding of evil spirits. Nyepi Day Eve is marked by processions of artistic and terrifying paper and wood 'Ogoh-ogoh' dolls- effigies of demons and mythical creatures, which are then burnt amongst much noise and merriment as a symbol of purification and the removal of negativity.
The Bali Arts Festival: It's the biggest event of the year, an entire month in June and July dedicated to celebrating Balinese artistic culture in all its forms. You'll find performances and exhibitions devoted to music, dance, literature, fashion, craft, and photography. And the parade of ornately beautiful costumes is not to be missed.
The Bali Spirit Festival: An internationally renowned festival of yoga, music and dance which hosts a packed week of events dedicated to the health and well-being of body and mind.
And if you miss these events, don't worry. Maybe you'll catch the Ubud Food Festival, Bali Kite Festival, Sanur Festival, Lovina Beach Festival, Ubud Writers & Readers Festival, or the Bali Blues Festival instead.
Or maybe one of the many Tumpek celebrations held throughout the year to give thanks for everything from domestic animals to plants to metal tools! Truly there is a festival for all things and to delight all people in Bali!
Gamelan
Indonesia's traditional orchestras, specifically those of Balinese and Javanese descent, are called Gamelan. They are made up mostly of metal percussion instruments such as gongs, xylophones, chimes, cymbals and drums, but they can also include flutes, reed instruments and vocalists. The ensembles begin with around five people but can contain many more. Some have around 40 musicians.
The Gamelan orchestras are an integral part of Balinese and Indonesian heritage going back centuries and are a source of national and cultural pride.
The music has a spiritual significance, with many musicians believing that the instruments have a connection to the gods. For this reason, authentic Gamelan instruments are hand forged and treated as family heirlooms to be passed down through generations.
You'll hear Gamelan music being played at cultural events, religious ceremonies, and celebrations and as an accompaniment to traditional Balinese dance. Its haunting, percussive, yet melodic sound will stay with you long after the performance finishes.
Garuda Wisnu Kencana Cultural Park (GWK)
A newcomer to Bali's attraction circuit, Garuda Wisnu Kencana Cultural Park has transformed a once barren landscape in South Bali into a must-visit cultural destination. Construction on this ambitious park began in the 1960s and took decades due to resistance from locals who objected to the sheer size and commercialism of the project. Despite concerns, it was finally completed in 2018 and is now an impressive site, well worth visiting.
The 60-hectare park is dominated by the incredible Garuda Wisnu Kencana statue, which towers over the surrounding landscape. This 75m tall installation (121m if you include the pedestal) is made from a steel frame covered in copper and brass and is the fourth tallest statue in the world. It depicts the god Vishnu riding on the back of the mythical bird Garuda in a scene from a famous Hindu story about the search for the elixir of life (Amerta).
But the impressive statue is not the only attraction at the park. The space is split into different zones each with its own atmosphere. In one area, you'll find an amphitheatre which hosts a variety of cultural dances throughout the day, including a haunting Kekcak dance choreographed purely for this cultural park.
Another area is dedicated to street theatre, and you can enjoy an immersive experience as you walk alongside the dancers and performers. You can also wander through the lotus pond, a vast area surrounded by limestone monoliths.
This is a tranquil place except when it's playing host to 75,000 people for concerts and special events! In addition, you'll find an exhibition space, plus shops and restaurants so you can refuel and spend the whole day at this fascinating park.
Hot springs and holy waters
Naturally occurring hot springs are a wonderful bonus of Bali's volcanic landscape (besides the stunning views and hiking opportunities, of course). These thermal waters are heated by lava below ground and then bubble up to the surface, filled with minerals and therapeutic properties that help cleanse and purify the body.
Many such hot springs are spread throughout the island's interior, and they come in all shapes and styles, so you can choose the springs to suit your vacation vibe.
As well as hot springs, you will find holy water springs that form part of temple complexes. These are used by temple goers for purification rituals in the sacred waters as they pray and they also have pools open to the public. If you head to one of these temples, be sure to follow the temple's dress codes and rules so that you bathe in the correct pools and don't cause offence.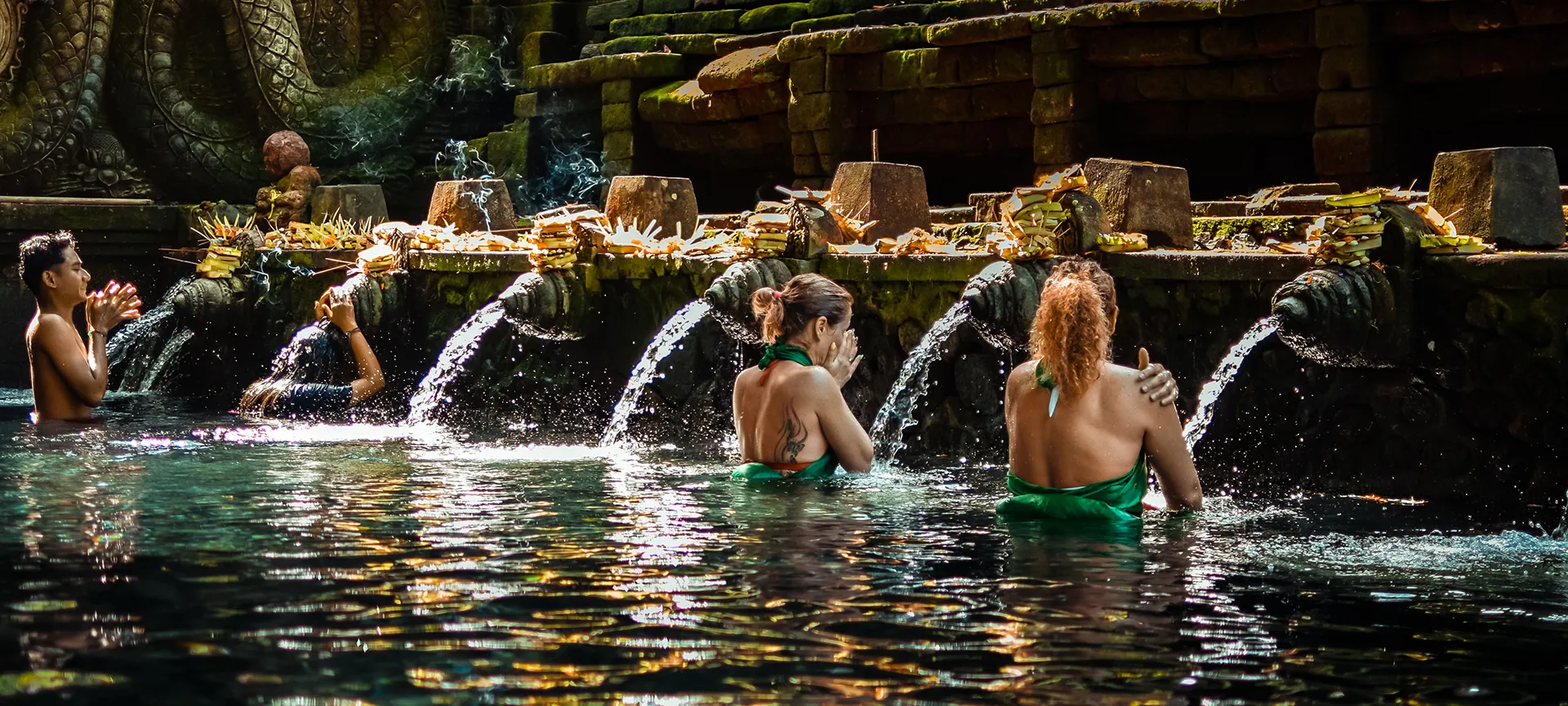 Tirta Empul is one of the biggest water temples in Bali and is an easy visit from Ubud. At the same time, Tirta Gangga Royal Water Garden is a stunning complex of koi and sculpture-filled pools that makes a beautiful day out and has public bathing pools on site.
If you'd rather have a natural springs experience that feels more like a spa day than a religious excursion, there are plenty to choose from. One of the best spots to enjoy a truly indulgent hot spring day is on the shores of Lake Batur, where a trip to the hot springs is a perfect activity following a sunrise hike of the volcano.
You'll find several hot spring pools, but Toya Devasya Spa is a personal favourite. Its complex of pools features clear, odourless waters of varying temperatures arranged amongst beautifully manicured gardens, culminating in infinity pools offering panoramic views of the lake and mountain. Sunloungers, modern bathroom facilities, and an onsite restaurant mean you can stay in this purifying resort all day.
For a more rustic feel, head to The Banjar Hot Springs in northern Bali. These roughly hewn stone pools are surrounded by jungle, and the cloudy sulphuric water (said to have magical healing properties) pours from the mouths of carved stone dragons. There is a restaurant onsite, as well as changing rooms and lockers. It's a popular spot and can get crowded, but it's worth the experience.
Indonesia
Many people think of Bali as its own country, but it is actually a province of Indonesia. The world's 14th-largest country is home to vastly diverse landscapes and cultures. Yet despite its many splendours, most of this beautiful country gets ignored as tourists flock to Bali and rarely take the time to explore further afield.
While we fully understand the urge to spend as much time in Bali as possible, we recommend adding some of the wider Indonesia to your itinerary.
You can trek through tropical jungles, climb active volcanoes, languish on stunning white sand beaches, surf perfect beach breaks, eat incredible food and spot wonderful wildlife. And all a little further from the beaten path than can be found in Bali.
Jungles
Bali's stunning coastline might get most of the press, but there is more to this island than beautiful beaches! Your Bali getaway is not complete without a trip into the thickly jungled interior of the island.
The lush tropical rainforest that fills Bali's centre hides all kinds of delights, such as crystal clear rivers, waterfalls cascading into refreshing bathing pools, hidden temples and fantastic wildlife.
And you don't have to venture too far to be in the thick of it. One of Bali's premier destinations, Ubud, is surrounded by jungle which visitors can explore on short hikes and half-day tours. Alternatively, why not stay amidst the trees? Ubud is home to some stunning, luxurious rainforest resorts that feel miles from anywhere while just a short ride from the town centre.
Or, for somewhere a little more isolated, visit the Bali Barat National Park at the far west tip of Bali to hike through not just rainforest but savanna and mangrove forests that house monkeys, deer, wild pigs, monitor lizards, and, once upon a time, tigers.
Kecak Dance
Bali has many traditional dances, but one of the most recognisable is the Kecak Dance or fire dance. A spectacle which involves around 50 performers and the epic tale Ramayana, a love story following Prince Rama's attempts to rescue his beloved wife, Sita.
What sets the Kecak apart from the other dance styles of Bali is that it is not accompanied by the traditional gamelan orchestra or any musicians, nor is there a stage set or artificial backdrop.
Instead, the accompaniment to the performers is the ring of 50 or so men and boys (generally, although female Kecak performers are becoming more common) who encircle the performers and chant a repetitive chak-a-chak-a sound mimicking the sound of a pack of monkeys. This forms an evocative soundtrack to the tale unfolding before the audience.
You'll find plenty of Kecak performances happening in Bali, especially in Ubud, but the most famous place to see it is Uluwatu. There the nightly performances happen in an open-air cliff-top amphitheatre and are made all the more spectacular by the sun setting in the background.
Kuta
Chances are you've heard of Kuta long before reaching the island, as its reputation more than precedes it. Kuta is where the tourism industry began in Bali, and its popularity has yet to wane. It was the beach which first drew the crowds, and for good reason. The stunning sweep of golden sand stretches for a whopping 12 km along the coast from the airport past Seminyak all the way to Echo Beach. It's a beautiful place to walk, surf, swim, sunbathe or just sit and watch the action. Because on Kuta Beach, there is always something going on.
It's a lively place filled with holidaymakers, locals, surfers, touts and vendors, and there is plenty to keep you occupied. You can rent a sun-lounger or a surfboard, get your hair braided or have a massage, get a frosty Bintang or cocktail delivered to your lounger or grab lunch at one of the many colourful restaurants lining the sand.
Off the beach, Kuta is a frantic, brash, crowded place that people either love or hate. Its narrow streets are filled to bursting with chain restaurants and cheap cafes, hawkers pushing slogan t-shirts, endless cries of "massage!" and a constant loud and erratic flow of traffic.
Chaotic as it might be, the area is a favourite with shoestring travellers hunting out budget hostels and cheap eateries. And it's also popular with families enjoying package holidays at the beachfront resorts and making the most of the waterpark, arcades, child-friendly menus and endless activities.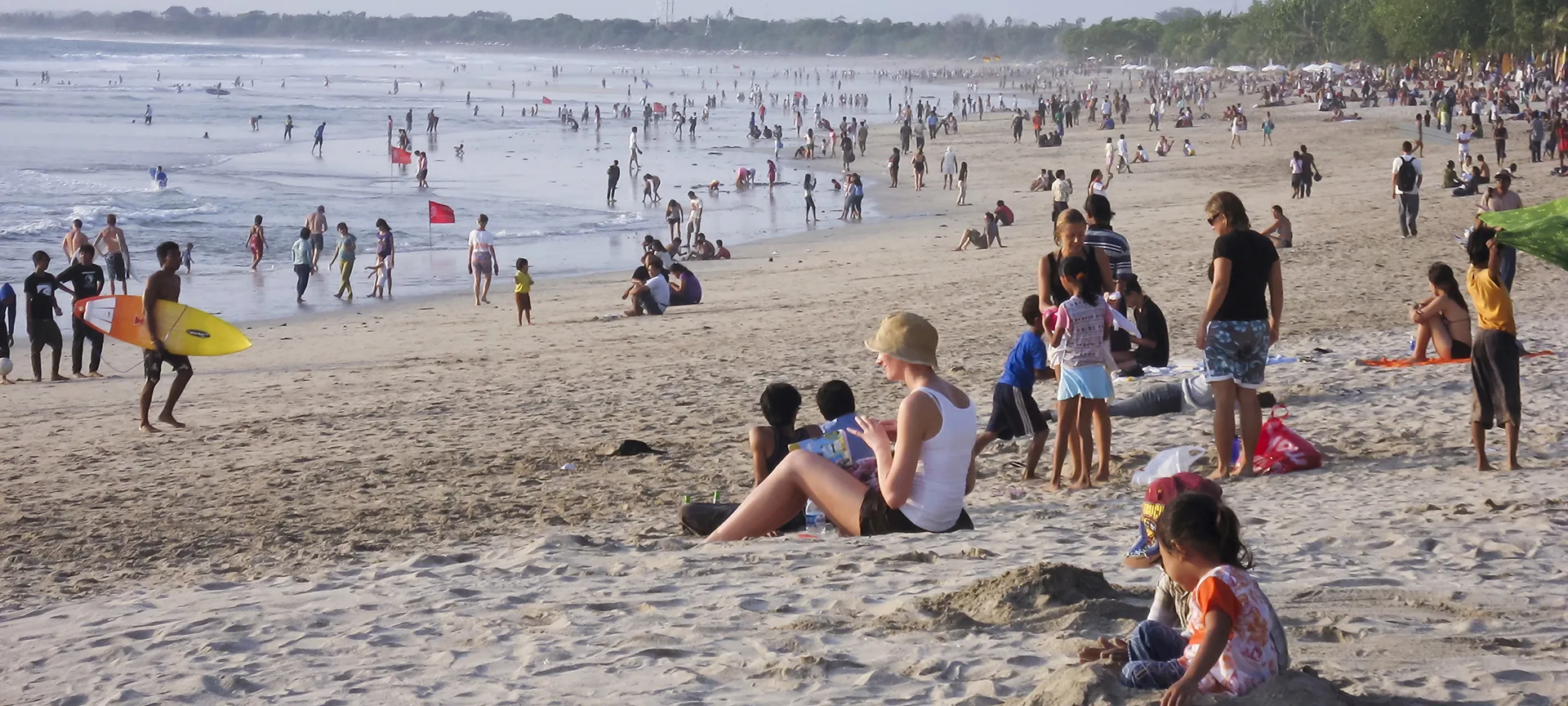 But it's after dark that this area really comes to life. Kuta's nightlife is simply legendary and features everything from surfer bars and cocktail lounges to super clubs and all-night raves.
Start the night early with beers on the beach with a view of the beautiful Balinese sunset and the surfers. Then head for dinner and drinks in the more sophisticated venues near Seminyak before working your way back into the heart of Kuta as the night progresses. Bar crawl through a succession of venues making the most of drinks offers and free entry deals until you find yourself in a club with an international DJ dropping beats until dawn.
With its crowded streets, lively beach, constant noise and endless hawkers, Kuta is not for everyone. But if you like constant entertainment and an all-night party, it might just be the place for you!
LGBTQ+ travellers
Bali is a safe and welcoming place for LGBTQ+ visitors. The island's reputation for inclusivity has attracted many such travellers over the years. There is now a large community of LGBTQ+ expats living in and around Ubud and a thriving gay scene in Seminyak, where you'll find many gay bars, LGBTQ+-friendly accommodations, and drag nights.
Physical contact between same-sex couples – such as holding hands and hugging – is commonplace in Bali, so travellers should not worry about receiving undue attention or trouble. However, couples (of all denominations) should be discreet and respectful with other displays of affection, as it's not the norm in Balinese culture.
Sadly the status of LGBTQ+ rights across the rest of Indonesia is not so tolerant and seems to be getting worse rather than better. For this reason, many gay and non-binary Indonesians have moved to Bali in search of a more welcoming environment.
The wider situation also means that LGBTQ+ visitors should exercise caution when travelling elsewhere in the country. For instance, if visiting nearby Lombok with its majority Muslim population, couples should avoid all physical contact in public – this advice goes for straight couples also.
Luwak coffee
Bali might not be one of the first destinations that spring to mind when you think of coffee production, but it is home to the most exclusive (and expensive) coffee in the world, Kopi Luwak.
The reason for the high-end label on Bali's coffee is its unusual production method. Luwak coffee is made from coffee beans which have been eaten, partially digested and pooped out by a small nocturnal and rather cute animal called an Asian Civet Cat.
This bizarre process leads to such great coffee because of two things. Firstly the civet cats are picky eaters and only go after the best and ripest coffee beans. The second is that various enzymes go to work on the beans during the digestive process, breaking them down and causing them to start fermenting.
Once excreted, cleaned and processed, these beans create coffee with a unique flavour unlike that of regularly produced coffee.
If you fancy trying this unusual beverage, you'll find cafes, warungs, and roadside stalls all offering cups and bags of Kopi Luwak. Plus, there are so many coffee plantations in Bali that most outings and day trips to other sites will include a tour of a coffee farm too.
On these tours, you'll get to walk around a plantation, check out the native plants, coffee and cocoa trees, see the coffee production and enjoy coffee tastings that compare Luwak and regular coffee as well as variations of Balinese coffee. There is, of course, the chance to buy a supply of coffee to take away with you, but you're also perfectly entitled to enjoy a tour and a tasting without making further purchases.
Unfortunately, there is a problem with this plethora of Luwak Coffee growers and sellers, and that is finding authentic ones. One issue is that it's tricky for the uninitiated to know if they're drinking the real thing or not, as often the only real indicator is the price tag. And it's far too easy to stick a Luwak label on a regular bag of coffee beans.
Also, once Luwak Coffee's popularity became established, mass production led to unethical farming practices. These days, instead of collecting the faeces of wild cats, many Luwak Coffee farms use caged civet cats, which are force-fed the coffee beans.
So if you're interested in sampling the real thing, do your research before booking a tour and look for farms that use wild or free-range civet cats and have ethical production processes.
If you're not bothered about it, skip the search for authentic Luwak and just enjoy locally sourced Balinese coffee, the price tag is lower, and it's still excellent.
Monkey Forest
The sacred Monkey Sanctuary and Forest in Ubud is one of Bali's most popular tourist attractions. Located in Padangtegal on the edge of Ubud, the sanctuary is home to over a thousand Long-Tailed Balinese Macaques whose antics are endlessly entertaining.
The forest is known for its conservation efforts and works continually to protect the monkeys that live within its confines and keep the forest running as a sanctuary.
Knowledgeable staff and guides are onsite to answer questions and lead guided tours through the forest. But you are also welcome to wander at your own pace through the trees enjoying the peaceful old-growth forest whilst watching the playful monkeys gadding about.
You should be aware that they are semi-wild creatures and well-practised in nabbing items from unsuspecting tourists. So protect your valuables, don't take any food into the forest with you and don't try to touch the monkeys.
Although, there is a real chance that the monkeys will try and touch (or climb) you! If they do, don't panic, they are not naturally aggressive, just curious and mischievous.
But it's not just about the monkeys – honestly! The 25-acre sanctuary is home to almost 200 species of plants and trees, and the forest is filled with clear streams and walking trails. It's also home to three ancient temples flanked by moss-covered statues that look as though they are being slowly reclaimed by the forest.
It's an atmospheric, beautiful place that remains peaceful despite the monkeys and many people who visit. So don't let its popularity – or the crowds of hawkers at the entrances put you off. Instead, allow yourself at least two hours to explore and get lost in the tranquillity of monkey-filled nature.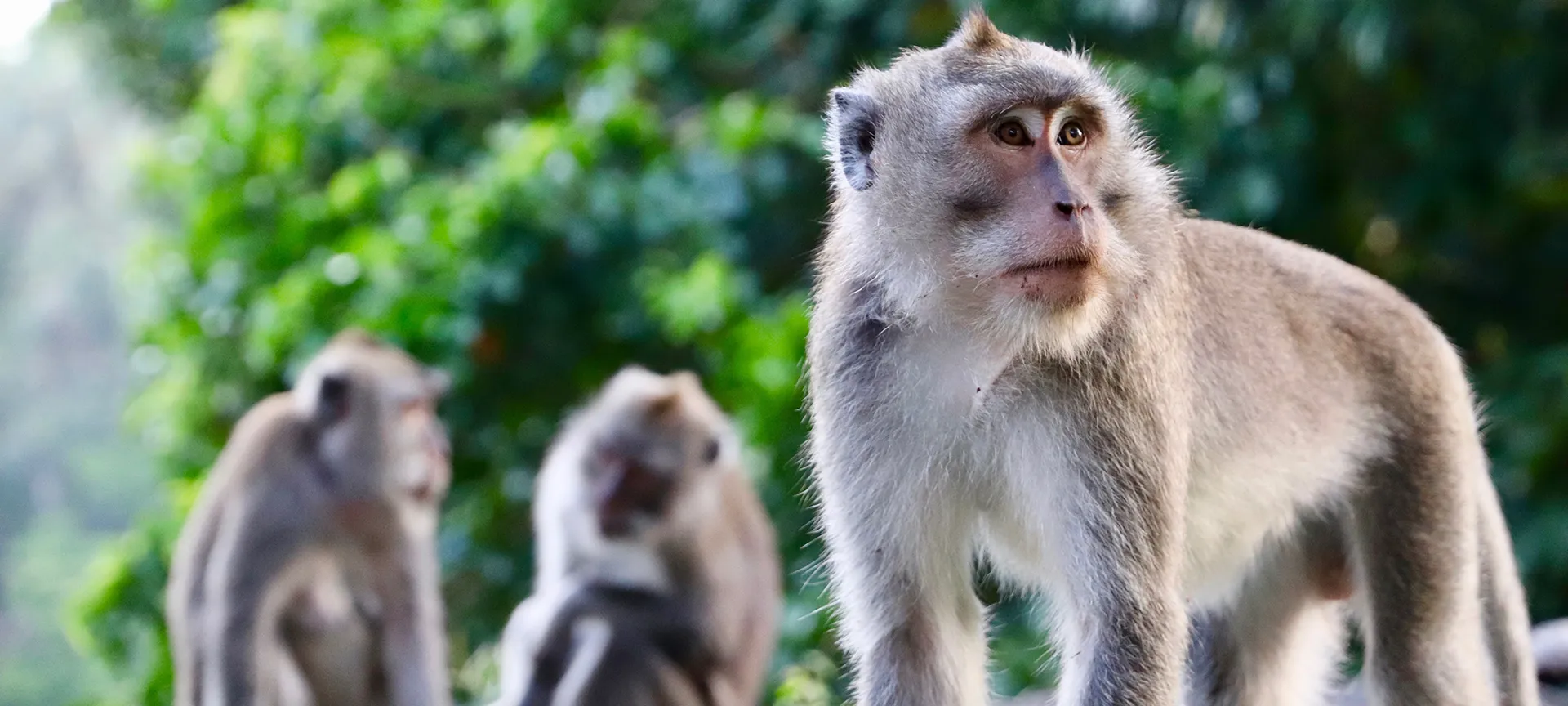 Nasi Goreng
"If you haven't had rice, then you haven't eaten" is a phrase taken seriously in Bali. Rice is the base of most meals on the island, and one served without it is generally considered incomplete.
One of the most popular rice dishes and a front runner for Bali's signature meal is Nasi Goreng. A quick, satisfying, delicious meal you're sure to encounter often during your trip.
The Balinese version of fried rice, Nasi Goreng, is a simply prepared plate of stir-fried rice, veggies, spices, tofu and meat (most often chicken, pork or seafood), with an egg mixed in or perfectly fried and balanced on top.
Nasi Goreng has a near-universal appeal. You'll find it for sale all over the place at street stalls, warungs, hotels and restaurants, and you can enjoy it for breakfast, lunch, dinner, or as a snack while on a night out.
It's cheap enough for budget travellers to enjoy on a shoestring, yet it is fresh and flavourful enough for foodies to appreciate. It's ideal for vegetarians and vegans, as the meat and egg are both optional. And if you don't love rice? simply opt for Mie Goreng; it's the same dish served with noodles instead of rice.
This tasty dish is so popular in fact, that you'll find T-shirts for sale in Bali bearing the slogan Peace, Love & Nasi Goreng, which says it all really!
Offerings
Making and laying offerings to the gods is a massive part of life in Bali. There are offerings to be made for various reasons and to different deities, and they range widely in size and frequency. For example, there is the small Saiban – little more than some grains of rice or flowers placed on a banana leaf, offered three times a day. And there is the Gebogan – towering constructions of fruit and flowers, often 1 to 2 metres high, created for temple anniversaries.
It's not unusual to see the smaller offerings being made with little ceremony. Tourists are often surprised by how routinely a woman (usually women) might step away from serving in a shop or restaurant to quickly lay an offering at a shrine. But it's this lack of ceremony that proves just what a routine part of life this ritual is. You'll even see stalls selling easy-to-assemble kits so people can save time when making their daily offerings.
However, it's a different story when it comes to the less frequent and larger offerings, such as the Gebogan or those made for funerals or weddings. Then the offerings are beautiful, intricately made, handcrafted works of art, and the placing of them is accompanied by long colourful processions through the streets.
Ogoh-Ogoh
You'll see these huge, intricate and terrifying sculptures of demons parading through Bali's streets on the evening before Nyepi. They are part of a colourful, raucous and memorable festival that you should definitely try to catch if you can.
Construction of these giant, complex statues begins weeks, even months before Nyepi, with youth groups, communities, and artists working together to make the most eye-catching effigies they can using wood, paper, bamboo and foam.
In the days leading up to the parade, you'll see them taking shape on roadsides around the island, often surrounded by protective scaffolding with teams working hard to complete them on time. The finished things can stand up to 10m tall and are amazingly detailed with gruesome monstrous features.
On Nyepi Eve, the Ogoh-Ogoh are hoisted onto bamboo platforms and poles and carried through the streets as part of the Ngrupuk Parade. The cleverly constructed puppets appear to dance and shiver as they're carried, creating a dramatic, eerie effect.
This is accompanied by loud music, drums, and much yelling from the onlookers, who set off fireworks and flares designed to expel the demons from the village. The event culminates with the burning of the Ogoh-Ogoh as a symbol of purification, ready for the new year.
You won't struggle to find an Ogoh-Ogoh parade as they happen in most towns and villages across the island. But if you want the busiest, head to Denpasar, where the parade of demon floats is so large that it continues all afternoon and late into the night.
Pura Lempuyang
This is one of the oldest and most highly regarded temples in Bali, famed for its impressive architecture, stunning views of the surrounding landscape and, of course, the chance to get that iconic photo at the Gates of Heaven.
You know, the one we mean, that beautiful shot of someone standing meditatively between the symmetrical temple gates that perfectly framed Mount Agung. The whole image mirrored in the reflecting pool below.
Well, we don't blame you for wanting to recreate that spectacular shot, but be aware that, as with most of what you see on Instagram, all is not what it seems.
The Gates of Heaven are now one of Bali's most popular tourist spots, so the experience is not quite as peaceful as the picture might imply. Visitors can queue for up to three hours for the chance to strike a pose in the famous spot. Likewise, the volcanic peak of Mount Agung regularly hides behind cloud cover and that reflecting pool? It doesn't exist. It was created by an enterprising local who realised the artistic benefit of holding a mirror under their camera and now offers you the same service.
Now, we're not saying it's not worth it, because it truly is a fantastic shot, but it's best to be prepared. We recommend visiting at sunrise for the best views and at sunset for the shortest queues
And, while you're there, remember that this busy tourist attraction is, first and foremost, a holy place that people visit for worship and contemplation. So please dress and behave appropriately and pay attention to any rules or restrictions.
And, since the location is stunning, whether you get the photo or not, why not make the most of the area while you're there? Pura Lempuyang actually contains seven temples in a stunning complex that sits over 1,000m above sea level.
The site offers spectacular views of East Bali and includes beautiful architecture aside from the famous gates. So allow yourself several hours to wander the hiking paths and explore the complex fully.
Qigong
With roots stretching back to China over 2000 years ago, Qigong (In the west, often spelt as "Chi Gung"), started out as part of marshall arts practices. It spread through Chinese society in different forms and then, in the 1940s the government started bringing the different aspects of the practice together to form the style of Qigong that most people practice today. The practice has spread around the world and in Bali, it sits quite happily alongside yoga and other wellness practices. Like yoga the Qigong epicentre of Bai is Ubud, but you'll find Qigong workshops, retreats and teacher training across the island.
Rainy season
Bali has a tropical climate with two main seasons; wet and dry. These seasons are not always predictable, but the rainy season generally runs from November to March.
However, unlike some holiday destinations where you're advised against travelling during the wet season, Bali is eminently enjoyable all year round. As is evidenced by the fact that December, which falls in the middle of the rainy season, is still one of Bali's peak months for tourism.
Of course, you can expect more rain during the wet months, but it's not a case of all rain and no sunshine. The temperature in Bali doesn't change much, in fact, it can often be hotter in the rainy season thanks to the higher humidity.
You can still expect plenty of hours of sunshine and prolonged dry spells, and when it does rain, it's not endless drizzly grey days, but tropical storms which drop rain in heavy short bursts before passing on, leaving the landscape lush and green.
There are downsides to the wet season, of course. Occasionally these storms can last for two to three days at a time, causing some flooding on the roads. In addition, the sea gets choppier, so transfers between Bali and nearby islands can be rough. And certain activities such as surfing, diving and volcano hiking happen less frequently. Also, with the rain comes mosquitos, so be sure to pack your repellant!
However, alongside these changes comes a significant drop in prices and crowds (with the exception of December). So it can be a great time to visit some of Bali's more popular spots in a more peaceful atmosphere.
So don't let the wet season worry you. Instead, make the most of low prices and fewer crowds. And if the rain comes, just skip the sunbathing for a day or two and enjoy waterfall trips, white water rafting, cooking courses, spa treatments and yoga retreats instead.
Sambal
You'll probably come across this hot and spicy condiment as soon as you have your first meal in Bali. A ubiquitous part of Indonesian food, this flavourful sauce originated in Java but was quickly adopted by the rest of the country and most of South Asia and can now be found across the globe.
Simply put, sambal is a spicy sauce with a base of chillies (fresh or paste) and additional ingredients, including garlic, ginger, lime, lemongrass, shallots, sugar, peanuts, soy sauce, shrimp paste, tomatoes and any number of other possibilities.
These ingredients can be raw or cooked and added in any combination or ratio. As a result, there are endless variations of sambal. Each region of Indonesia has its own specialities, and every chef has a favourite – and closely guarded recipe.
Sometimes sambal is cooked into dishes as the base of a stirfry, soup or marinade. But more commonly, it's served as a side or condiment with meals. Taste it first to check the heat level, then mix it into your meal to give it an extra kick or use it as a dipping sauce for meat, vegetables, or even fries.
It won't take long before you're claiming to be a sambal expert, discussing the merits of each one you taste and picking your favourites. And you'll certainly want to take some home with you!
Tanah Lot
A chain of sea temples lines Bali's southwest coastline, each one built within sight of the next. Tanah Lot is the most famous and most visited of these temples and also the most photographed.
Images of the temple, standing atop its ocean rock, backed by a dramatic sunset, is one of Bali's most recognisable silhouettes.
This 16th-century Hindu shrine sits 300m offshore. Battered by centuries of waves, the rock base ultimately began to crumble, causing structural damage that threatened the temple's future.
In the 1980s, Bali started a restoration project which saw Tanah Lot expertly restored and secured. Today one-third of the rock base on which it stands is artificial, but we doubt you'll be able to spot the difference.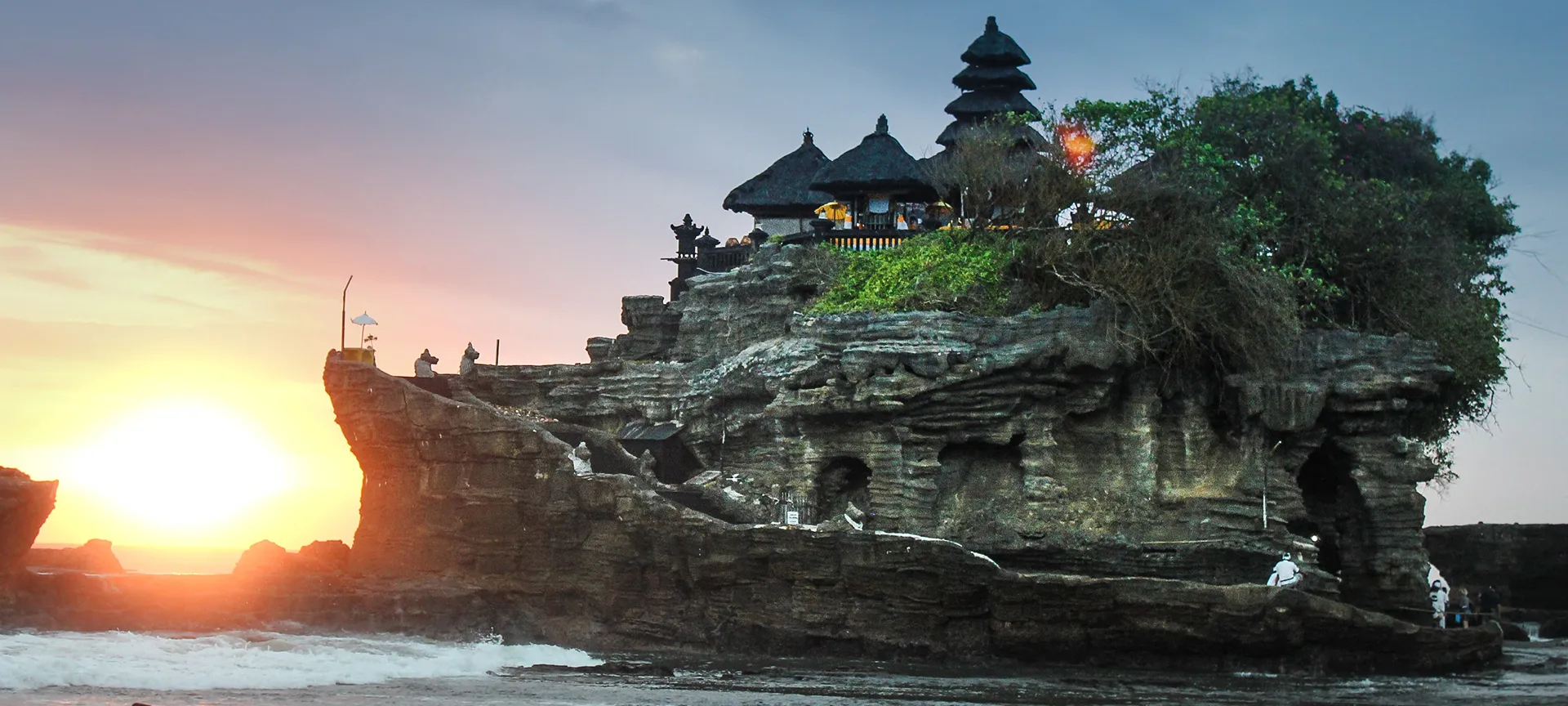 At low tide, you can walk out to the temple, although you might not want to, as legend says, venomous sea snakes sit at the temple's base, guarding it against evil intruders!
Instead, stand on the beach to admire the temple against its ocean backdrop or head back to the mainland section of the temple grounds, where you'll find several other shrines. You can also explore the cultural park with it's groomed gardens, temple-view restaurants and regular Balinese dance performances.
This area can get extremely busy and frantic at sunset with large tourist crowds, plus hawkers and souvenir stalls that line the entrance to the beach. So unless you're particularly worried about getting that famous sunset view, we recommend visiting earlier in the day – before noon if possible.
That way, you'll beat the crowds and can enjoy seeing the temple in a much more peaceful atmosphere. And then, you can head along the coast towards Canggu to enjoy the sunset from another equally beautiful but less crowded spot.
Ubud
On an island packed with magical places, Ubud easily holds its own as one of the most incredible. Centrally located amidst dense, waterfall-filled jungle and rice terraces crisscrossed with hiking trails, Ubud makes an excellent base for exploring the island's interior. But that's only if you can drag yourself away from the town.
A hub of artistic, spiritual, holistic and cultural life on the island, this is the place to head for self-discovery and reflection and to check out the many incredible works of art made by the endlessly creative population. It's also the place to catch some of the most authentic Balinese cultural performances, with traditional Kecak, Legong, and Barong dances happening nightly alongside shadow puppet theatres and gamelan orchestras.
But don't think that Ubud is some lost-in-the-past cultural village, it's quite the opposite. This town successfully pairs ancient Balinese customs and culture with an extremely modern outlook. Ubud has a strong focus on green practices, eco-tourism, and sustainable lifestyles.
It's home to some of the most luxurious accommodations in Bali, both in town and scattered through the surrounding forest. There's an achingly hip cafe and dining scene, which caters effortlessly to vegan diets while also offering some of the best babi guling (suckling pig) and bebek betutu (smoked duck) on the whole island. Plus, its large expat chef community provides you with plenty of global and fusion cuisines in case you ever tire of Balinese.
Ubud is also the undisputed yoga hub of Bali – an impressive feat considering the sheer amount of studios available across the island. But here you'll find some of the most authentic practices, led by world-class teachers in stunning studios, ranging from modern air-conditioned cubes, to open-air jungle pavilions.
And why not pair your yoga experience with a spa break or wellness retreat? Ubud houses an endless choice of spa and wellness centres offering Ayurvedic treatments (an ancient Indian medicine form with its roots in natural and holistic healing methods) alongside cutting-edge health and beauty treatments.
If you fancy adding in a little retail therapy, Ubud won't disappoint. Its streets are filled with fascinatingly quirky shops and elegant boutiques selling unique, locally made items. Shop for Balinese artwork, musical instruments, artisanal jewellery, eco-friendly clothing, yoga accessories and hand-crafted furniture.
You'll also find bookshops covering Balinese culture, cuisine, religion, history and art and showcasing the many works written about and set in the beautiful town of Ubud. Including, of course, Eat Pray Love, which was partially set in and around the town.
Many people travel to Ubud purely to recreate the journey of self-discovery taken by Elizabeth Gilbert in the book, hoping to experience a little of the magic she found there.
Sadly you can no longer visit Gilbert's friend and guide, Balinese medicine man Ketut Liyer, who did reside in Ubud but died in 2016. However, you can wander through the surrounding rice fields, many of which are featured in the film version of the book.
Be sure to visit the Sacred Monkey Forest while in Ubud to spend a few hours wanding through old-growth forest, amidst ancient temples as over 1,000 long-tailed macaques swing through the trees around you.
And consider hiring a scooter or taking a day trip to explore the spectacular surrounding landscape filled with impossibly beautiful valleys, waterfalls cascading into refreshing bathing pools, hidden temples, ancient sites and natural hot springs.
Sound like a lot to take in? It is. Ubud is packed with incredible experiences! And be warned; if you visit Ubud with no exit plan, you may find yourself staying far longer than expected. The magic of this place tends to draw people in, and before you know it, you're part of the ever-growing population of people who visited once and stayed forever.
Visas
One of the reasons why Bali is such a popular holiday destination is that the visa situation is simple and straightforward. For residents of a few South Asian countries, no visa is required at all (Thailand, Vietnam, Singapore etc., check the whole list here).
And for most of the rest of the world (80+ countries including the UK, most European nations, Australia, New Zealand, the USA and Canada), visitors qualify for a Visa on Arrival (VoA). This lasts for 30 days and costs IDR 500,000 (roughly £25) per person.
For a long time, this visa had to be collected and paid for at the air or sea port on arrival (hence the name). But now, you can purchase the visa online before you arrive, making the process even easier. When applying for your VoA, you'll need your passport – with at least six months of validity. And you may be asked to show your return or onward ticket out of the country.
If you overstay your visa, you will be fined at a rate of IDR 1,000,000 (roughly £50) per day, and if you overstay substantially, you might be detained, deported, or even banned from re-entering the country. So don't take the risk! If you can't get enough of Bali, there are easy, legitimate ways to extend your holiday.
First, you can extend the VoA for an additional 30 days, giving you 60 days total. You can do it yourself at a cost of IDR 500,000 (£25) or use a third-party visa agent, which raises the price but saves you a lot of hassle.
Your second option is to leave Bali at the end of your 30 or 60 days and return, resetting your visa. Remember that your visa is for Indonesia, not just Bali, so you'll need to leave the whole country. Singapore is one of the most common visa-run locations, as is Malaysia, so it's a wonderful opportunity to add a week's holiday in a new location to your trip.
Your third option is to apply for a B211A e-Visa. This one is for people who don't qualify for visa-less or VoA entry, or anyone wishing to stay longer than 60 days. It's a popular choice for long-term travellers and digital nomads. The visa is valid for 60 days and can be extended for an additional 60 days twice, giving you a total of 180 days.
Bali is also talking about releasing a five-year digital nomad visa which would be a game changer for remote workers. This would be the longest global digital nomad visa, but sadly it's not yet available. Cross your fingers that it gets approved soon so we can all pack up our laptops and move to paradise!
Warung
These small family-owned shops and food stalls are found throughout Indonesia, along roadsides and scattered through towns and villages.
You're never far from a warung in Bali, and they are one of the most common places to dine for locals and visitors alike. They are simple, cheap, no-frills restaurants with relaxed atmospheres and fresh, tasty food that often blurs the line between street food and sit-down fare.
Stop at one that takes your fancy, take a look at the simple menu or choose from the food displayed behind the glass counter. Then, take a seat (often at a shared table) and enjoy an authentic, affordable Balinese meal.
X-Rated
Bali doesn't have the same reputation as places like Thailand or Amsterdam when it comes to red-light districts and sex tourism, but that's not to say that it doesn't exist. Prostitution is illegal in Indonesia, but it still happens, and Bali, as one of the more liberal areas of the country, and the one with the largest tourist and expat population, has more than its fair share.
In Bali's busiest nightlife areas, such as Kuta, you'll find sex workers, both male and female, cruising the streets and bars, as well as touts selling 'massages' that offer more than the standard service.
Bali is also known for its Kuta Cowboys, young Indonesian men who act as paid companions to wealthy female travellers during their time on the island. These relationships go beyond a simple money-for-sex transaction.
Instead, the women enjoy the pretence of a holiday romance with an attractive guy, while the 'cowboy' gets a fully funded lavish lifestyle for the time they're together. This Balinese phenomenon was exposed to the world in the 2009 documentary Cowboys in Paradise.
Since the film's release, there has been a crackdown on these guys cruising the beaches looking for clients. But you'll still see plenty of the impossibly buff guys preening on Kuta beach and spot the suspiciously mismatched couples living it up in the area's hotels and restaurants.
Be aware that although it might seem to be tolerated and even regulated in some places, sex work in all its forms is still illegal in Bali, and you don't want to ruin your holiday by getting into a dangerous situation.
Yoga
Bali is one of the top places in the world to learn and practice yoga, and it's easy to see why. The island's reputation for spirituality and mindfulness and its dedication to holistic wellness lends itself perfectly to the practice of yoga.
And when you can practise surrounded by lush jungle filled with chattering birds and monkeys or looking out on the open ocean, you have a dream destination in which to stretch, breathe, and enjoy a fulfilling practice for the body and mind.
Wherever you are in your yoga journey, experienced yogi, aspiring teacher, casual practitioner or total beginner, you'll find classes to suit you from the hundreds available across the island.
And don't worry, most studios offer bilingual or English classes. You can hand-pick your yoga style from classics like Yin, Hatha and Bikram to fusion, acrobatic, and aerial.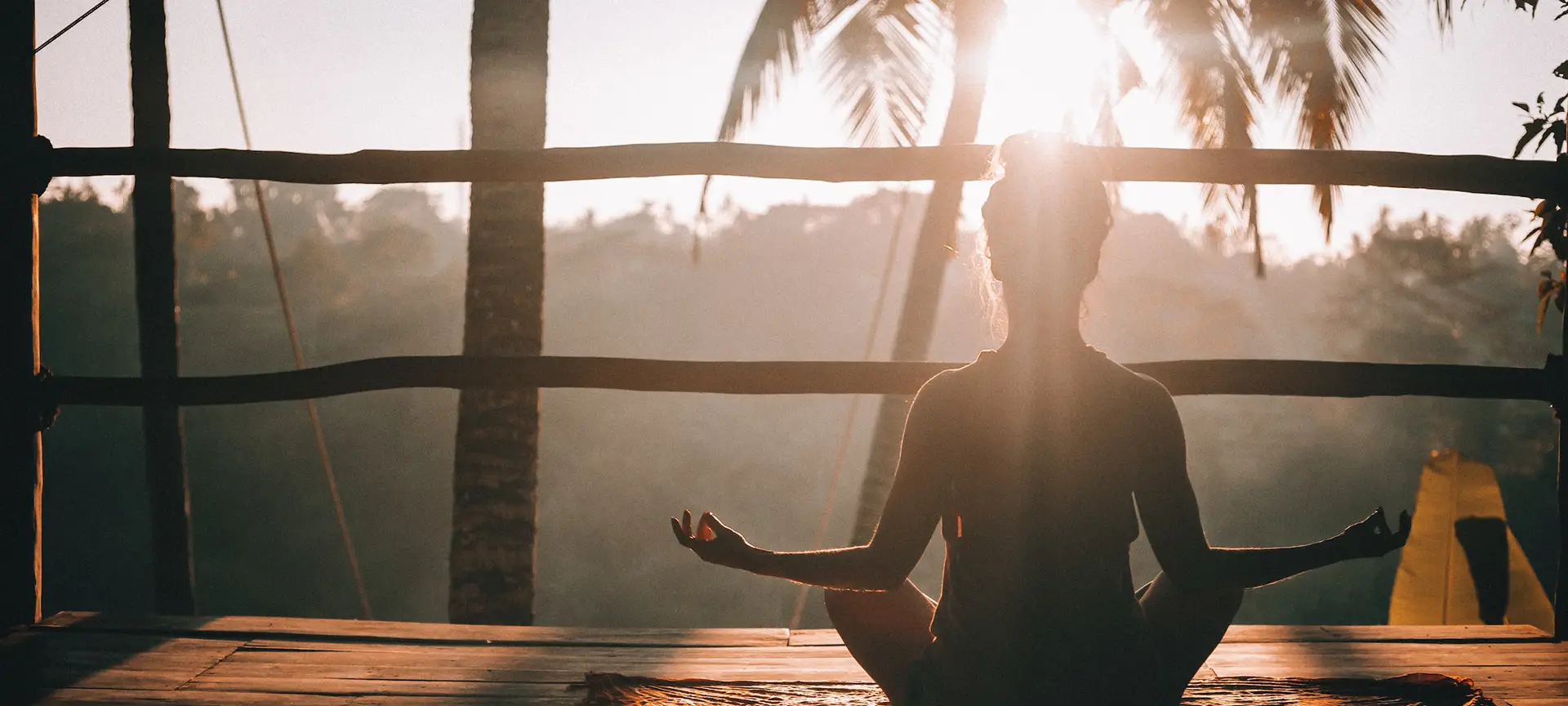 Choose one class or a course in an enclosed studio or an open-air pavilion, and feel free to pair your practice with a spa stay, detox or meditation retreat or a course of surf lessons.
Ubud is the undisputed yoga and wellness hub of the island and annually hosts the Bali Spirit Festival. An internationally respected week-long event dedicated to yoga, dance, music and healing. Here you'll find the most spiritual and authentic classes, taking place with a backdrop of rice fields and rainforest.
Canggu and Seminyak also have plenty of choices with air-conditioned studios, modern practices and world-class teachers, while classes in Sanur offer a more laid-back, almost local vibe.
Yoga in Uluwatu comes with a surf-centric vibe and an ocean soundtrack, and Amed on the East Coast is a peaceful, remote area to get away from the crowds and focus on your practice beneath the steadying gaze of Mount Agung.
Zen
Bali is the spiritual heart of Indonesia, and it has long attracted people searching for something lacking in their daily lives. Those seeking renewal, self-knowledge, or improved mindfulness have been arriving on Bali's shores long before it found fame in the 2006 tale of self-discovery Eat Pray Love.
But even those who aren't actively soul-searching will find Bali affecting them. The conspicuous daily spirituality, magical landscapes, welcoming people, wholesome food and dedication to wellness all combine to leave you with a feeling of well-being beyond what you find on a typical beach holiday.
For many people, finding their zen in Bali is not about religion but about taking time for themselves, doing what they love, and making the most of the incredible island.
Whether that's hiking through a wildlife-filled jungle, climbing to a volcano summit at sunrise, catching the perfect wave, finding balance in meditation or yoga, relaxing with a massage, visiting ancient sites and temples, or spending time with loved ones. Bali has endless ways to help you find your zen.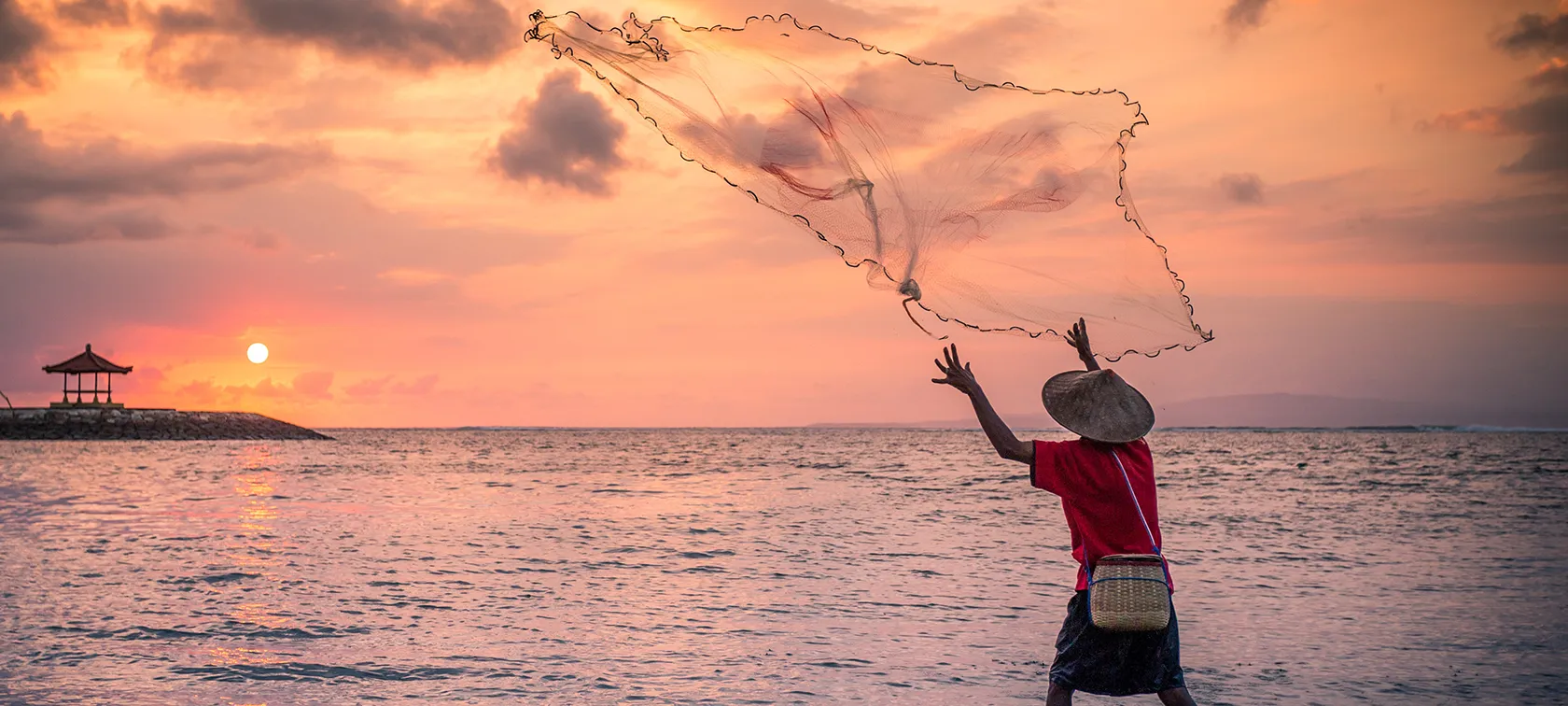 It's time for you to experience Bali
From sipping arak to yogic stretching, Bali offers so many things to offer visitors to enjoy. Whether you are looking to spend to holiday lounging at the pool of a five-star resort, getting pampered at a luxury spa or exploring the Balinese jungles and rice fields, you'll find your perfect dream escape on the island.
So what are you waiting for? Book your flight to Bali now!
Bali holds a special place in Anita's heart. She loves everything about it, from the beautiful beaches and incredible hiking to the relaxed atmosphere and friendly people. She spent her time in Bali learning to scuba dive, taking yoga classes on the cliffs of Uluwatu and exploring hidden waterfalls by scooter in the forests around Ubud.